Northeastern State University's inaugural class of physician assistants graduate program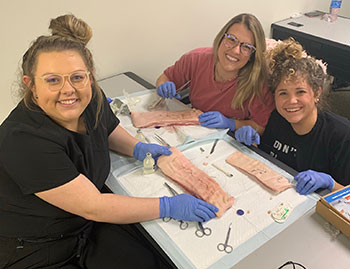 Suturing Lab - Northeastern State University physician assistant students Kaylee Switzer (left), McKenzie Slayer (middle) and Victoria Archer (right) learning how to do simple sutures during a suturing lab.
TAHLEQUAH, Okla. — Northeastern State University officials view the graduation of the first inaugural class of physician assistants last Saturday as a celebratory moment not only for the institution but the region as it seeks to improve health care in northeastern Oklahoma.
In 2020, NSU welcomed 20 physician assistant students as the program's inaugural cohort. On Dec. 10, that class graduated the program and are slated to begin their health care careers.
NSU Physician Assistant Studies Program Director Mark Perdue said it was a pleasure working with this group of students, adding this first class showed a lot of fortitude and determination to complete their education despite starting during a pandemic.
"It's a pleasure to see the students mature into compassionate and competent physician assistants," Perdue said. "A medical education is a kind of gift in that it provides you with a career of service and an honorable means to earn a living."
Perdue hopes that as the graduates start their career in medicine that they always look for opportunities to give back. He said teaching, precepting and working at free clinics are just a few ways to give back and keep that gift moving.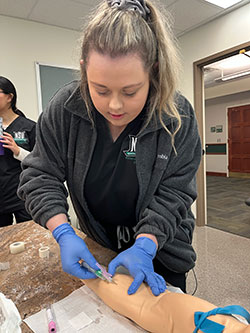 Pictured, Northeastern State University physician assistant studies graduate student Kaylee Switzer practicing venipuncture during the advanced clinical procedures course. Switzer and 19 other students will comprise the first cohort to graduate from the NSU Physician Assistant Studies program on Dec. 10.
Since launching the program, it has continued to grow year-to-year with officials making plans to celebrate another important milestone for the Class of 2023: receiving their white coats.
On Dec. 17, students, faculty and staff will come together in the Center for the Performing Arts at 3 p.m. for the program's White Coat Ceremony. The donning of a white coat is a special moment for aspiring physician assistants as it symbolizes their transition to the clinical phase of their training.
NSU President Steve Turner said the institution added the graduate-level program as part of a broader university plan to develop and implement programming that provides a direct benefit to the regional needs of northeastern Oklahoma.
"NSU remains committed to preparing students and working with regional partners to meet many of the regional and statewide challenges communities face especially in health care," Turner said. "The NSU PA program will help address rural health care needs in the region by bolstering its workforce with trained physician assistants."
Perdue said rural Oklahoma has a health care shortage and part of NSU's physician assistant program's mission is to provide physician assistants to serve this region as well as underserved populations such as American Indians. Turner said graduates are being encouraged to stay and work within the region.
Perdue said the program's faculty are passionate about medical education and combined possess around 100 years of experience in clinical medicine. He added the program also works closely with community leaders in the healthcare industry to provide instruction to better address the shortage of workers in rural Oklahoma.
"We have partnered with organizations such as the Cherokee Nation and other organizations to provide students with excellent clinical rotation sites," Perdue said. "Through these partnerships students are receiving first-hand exposure to Indian health and rural medicine. Many of our students in the 2022 cohort are pursuing career opportunities with our partners in American Indian health and rural medicine."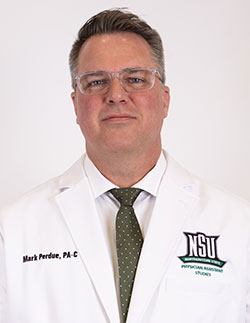 Mark Perdue
The physician assistant studies curriculum at NSU consists of 75 credit hours in the didactic year housed on NSU's Muskogee campus and 35 credit hours in the clinical phase of training conducted through regional medical centers including Northeastern Health System, the Cherokee Nation, the Muscogee (Creek) Nation, Northeastern Oklahoma Community Health Centers and Saint Francis Health System.
"We are proud of our graduates who despite starting during the pandemic have excelled with the assistance of exceptional faculty and community partners," Turner said. "However, this is only the beginning as we expect this program to continue to grow and be a benefit to the region and state. We are excited to see even more students graduate from the program in the coming years and transform health outcomes for those in northeastern Oklahoma and beyond."