2021 Commencement
Spring 2021 Commencement Ceremonies
Pre-Recorded Commencement with Closed Captioning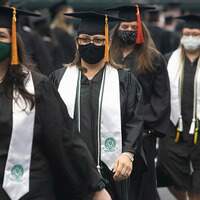 NSU spring 2021 Commencement ceremonies will be held May 7, 8 & 10. Graduates may have two guests attend their ceremony. All ceremonies will be held indoors and masks will be required.
Limiting the guests to two per graduate will provide for adequate space to ensure social distancing. Among other safety protocols in place during the ceremonies, the facilities will be cleaned and sanitized between ceremonies to help protect our guests and the NSU family.
Ticket Information
Students who indicated they will participate in commencement this May will receive an email from the Office of the Registrar to each student's NSU EMAIL ADDRESS with details for preregistering guests. The deadline for submitting guest information is April 26, 2021.
Tickets for preregistered guests must be picked up by the student during the designated time period and distributed to guests prior to the ceremony.
Tickets for the NSU Event Center must be picked up from the Office of the Registrar in the CASE building on the Tahlequah campus between May 3 through May 6. PHOTO ID REQUIRED.
Tickets for the ORU Mabee Center must be picked up at the Office of Student Affairs on the 2nd floor of the Administration Building on the Broken Arrow campus between May 3 and May 7. PHOTO ID REQUIRED.
Children ages 2 and over require a ticket. Children under the age of 2 must sit on the lap of a preregistered guest.
Commencement Ceremony Schedule
Tahlequah & Muskogee Students - NSU Event Center
May 7, 3:00 p.m. - College of Education
May 7, 7:00 p.m. - Graduate College and Oklahoma College of Optometry
May 8, 9:00 a.m. - College of Business and Technology
May 8, 1:00 p.m. - College of Liberal Arts
May 8, 5:00 p.m. - Greg Wadley College of Science and Health Professions
Broken Arrow Students
May 10, 6:00 p.m. - All Colleges @ ORU Mabee Center
INSTRUCTIONS FOR PARTICIPATION IN COMMENCEMENT CEREMONY
location
NSU Event Center Mabee Center
1041 N Grand Ave 7777 S. Lewis Ave.
Tahlequah, OK 74464 Tulsa, OK 74171