Instructional and Financial Aid Information
Student Financial Aid Information
Northeastern State University's Title IV School Code is 003161.
The Northeastern State University Office of Student Financial Services is dedicated to guiding informing and educating you on options regarding federal student aid.
Information on NSU student financial resources available from Federal, State, local and institutional programs are found on the following website:
More information may be requested from Student Financial Services.
Student Loan Information
Rights and Responsibilities of Aid Recipients
Rights
To be informed about financial aid application procedures, cost of attendance, aid available and renewal requirements.
To have confidential protection of your financial aid records. The contents of your financial aid file are maintained in accordance with the Family Educational Rights and Privacy Act (FERPA).
To appeal decisions made by the financial aid staff at Northeastern State University. A written appeal must be submitted to the Office of Financial Aid.
Responsibilities
To complete applications correctly and on time.
To read and understand all materials sent to you from the Office of Financial Aid and other financial aid agencies.
To keep copies of all forms and materials submitted.
To comply with the rules governing your aid programs.
To comply with the provisions of any promissory note and all other agreements you sign.
To enroll for the number of credit hours required and maintain satisfactory academic progress.
To request personal assistance if you have questions or don't understand the information provided to you.
Initial Loan Counseling for Student Borrowers
Procedures and forms by which students apply for assistance:
Review eligibility requirements to receive financial aid in the form of grants or loans.
Complete the Free Application for Federal Student Aid (FAFSA), after January 1 each year for the upcoming academic year that begins in the fall term. The FAFSA is available in both English and Spanish. Be sure to include the University's Federal School Code of 003161 to release your information to Northeastern State University.
Cost of Attendance
The cost of attendance (COA) at Northeastern State University includes, but is not limited to tuition, fees, room (residence halls/apartments) and board (meal plans/groceries), books, and miscellaneous expenses.
Code of Conduct for Education Loans
Financial aid satisfactory academic progress (SAP) and your academic performance are reviewed to ensure that you are making progress toward graduation. Your financial aid eligibility is based on standards that are established, published, and applied by the Office of Student Finance (OSF), as required by the U. S. Department of Education.
Exit Counseling for Student Borrowers
Return of financial aid after withdrawal
Be aware that changes in your enrollment may require you to return all or a portion of the financial aid disbursed to you. If you received a credit balance check or direct deposit earlier in the semester, you may be required to return a portion of those funds to the financial aid programs from which the aid was received. This portion represents funds that were intended to pay education-related expenses through the end of the semester. The amount to be returned to the University will be calculated from the date on which you officially withdrew.
Notice of Federal Student Financial Aid Penalties for Drug Law Violations
The Higher Education Act of 1965 as amended (HEA) suspends aid eligibility for students who have been convicted under federal or state law of the sale or possession of drugs, if the offense occurred during a period of enrollment for which the student was receiving federal student aid (grants, loans, and/or work-study). If you have a conviction(s) for these offenses, call the Federal Student Aid Information Center at 1-800-4-FED-AID (1-800-433-3243) or go to the FAFSA on the WebSM, click on "Before Beginning A FAFSA" in the left column, then click on "Student Aid Eligibility Worksheet" to find out how this law applies to you. For further information, refer to the Federal Student Aid website.
Privacy of Student Records Family Education Rights and Privacy Act
Northeastern State University requires students to provide personal information for academic and financial records. Student personal data and information may become part of one's University student educational record. Students may make the justifiable assumption that the University, as custodian of this data, will preserve the data's private nature. By requiring or requesting such information, the University gives assurance that the information will be protected against improper disclosure and only those within the institution who have a legitimate need-to-know will have access to this information.
Consumer Information on College Navigator Website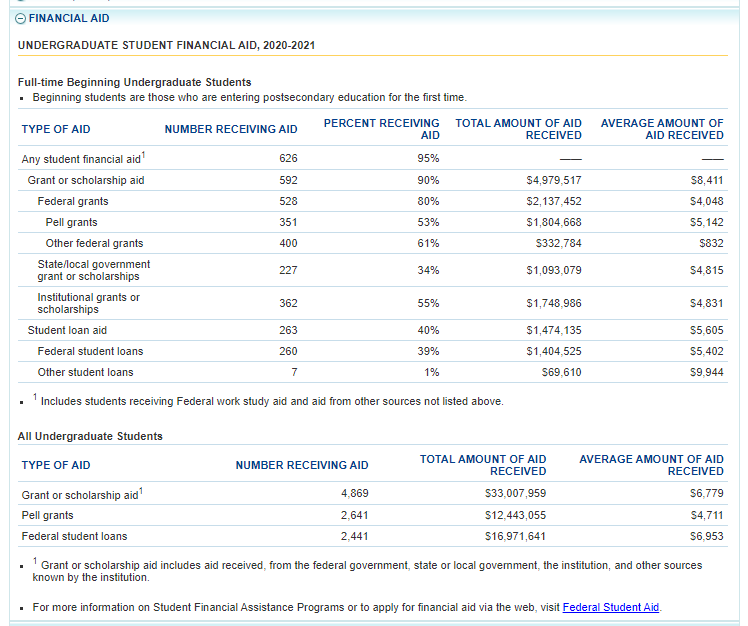 Cohort Default Rates - The national Student Loan Cohort Default Rate for FY19 is 2.3%

Facilities and Services for Students with Disabilities
Northeastern State University is committed to the goal of achieving equal educational opportunity and full participation for students with disabilities outlined by Section 504 of the Rehabilitation Act of 1973 (Section 504) and Title II of the Americans with Disabilities Act of 1990, which prohibit discrimination on the basis of disability.
Information on services available for students with disabilities and registration process are available in Student Affairs - Student Disability Services.
Student Body Diversity
The University, in compliance with all applicable federal and state laws and regulations, does not discriminate on the basis of race, color, national origin, sex, age, religion, political beliefs, disability, or status as a veteran in any of its policies, practices, or procedures. This includes, but is not limited to admissions, employment, financial aid, and education services.
Admissions and Enrollment
Admissions: The admission policies of NSU conform to the performance and curricular requirements established by the Oklahoma State Regents for Higher Education and are consistent with the mission of the University. Requirements for admission to NSU are subject to change without prior notice.
Enrollment: Students are encouraged to maintain enrollment throughout the semester. Registration and enrollment procedures provide students direction on managing their academic matriculation.
Cost of Attendance, Net Price Calculator, Billing and Payment
Cost of Attendance: Tuition and fees are established annually. Breakdown of costs may be found online.
Net Price Calculator: The Net Price Calculator gives an early approximation of what a new student can expect to pay to attend NSU. It is not an application for financial aid and the results are estimates, not guarantees.
Billing and Payment: A student who enrolls at Northeastern State University incurs a financial obligation. Bursar Services mails a billing statement to the student's permanent address twice a year. This statement details charges and payments that occurred since the previous statement. Each month outstanding balances are emailed to the NSU email accounts of students.
Fall: All tuition, fees, and other charges are due by the first day of the sixteen week semester.
Refunds, Requirements for Withdrawal and for the Return of Title IV, HEA Financial Aid
Dates for withdrawals for each semester are posted on the Academic Calendar available from the Course Schedule page. More information visit the withdrawal policy and procedures.
Students receiving federal financial assistance who completely withdraw from all classes, or fail to receive a passing grade in all courses during a period of enrollment, will be subject to the Return of Title IV Funds refund policy required by federal regulation. The Return of Title IV Funds is calculated during each period or term of enrollment. This policy applies to students receiving assistance through the Pell Grant, Supplemental Education Opportunity Grant, Academic Competitiveness Grant, Smart Grant, Perkins Loan, Subsidized Stafford Loan, Unsubsidized Stafford Loan, and the Parent Loans for Undergraduate Students Programs. Review the financial assistance withdrawal policies and procedures for when students are required to return funds received through Federal grants and loans.
Text book information
Managed by Barnes & Noble, the RiverHawk Shoppe (bookstore) offers the best deals on RiverHawks apparel, textbooks, school and office supplies, books and magazines. On the Tahlequah campus, the RiverHawk Shoppe is located on the ground floor of the University Center. On the Broken Arrow Campus, the RiverHawk Shoppe is located in Building A on the first floor.
Title IX - Gender-Based Discrimination and Sexual Misconduct Discrimination Policies and Procedures
Statement on Non-Discrimination
Northeastern State University (NSU) does not discriminate on the basis of race, color, sex, national or ethnic origin, religion, sex, disability, age, or veteran status in its programs and activities. These protections extend to employment with and admission to NSU, as well as, participant in university sponsored programs. The following person has been designated to handle inquiries regarding the non-discrimination policies:
Title IX Coordinator
Jamie Hall
Coordinator of Student Rights and Responsibilities
Administration Building, 209
601 N. Grand Avenue
Tahlequah, OK 74464
NSU is committed to providing learning, working, and living environment that promotes personal integrity, civility, and mutual respect in an environment free of discrimination on the basis of sex, which includes all forms of sexual misconduct. Sex discrimination violates an individual's fundamental rights and personal dignity. NSU considers sex discrimination in all its forms to be a serious offense. This policy refers to all forms of sex discrimination committed against members of the NSU community, including but not limited to: sexual misconduct that includes harassment, consensual, exploitation and violence; unfair treatment based on sex; and, other misconduct offenses when gender-based.
Title IX of the Education Amendments of 1972 prohibits discrimination based on sex in educational programs and activities that receive federal financial assistance. To ensure compliance with Title IX and other federal and state civil rights laws, NSU has developed policies and procedures that address prohibit sex discrimination in all of its forms. View the Gender-Based and Sexual Misconduct Discrimination policy and procedure.