Sheree Whiteside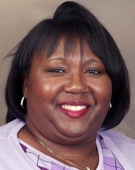 Sheree Whiteside
INSTRUCTOR
Psychology Broken Arrow
Office Location
Broken Arrow
Broken Arrow Administrative Services BAED 252A
(918) 449-6530
Bio
I have been an advocate for families and children and have worked and volunteered in both private and professional sectors to demonstrate my commitment to their well-being. I have worked with families living in low-income housing, worked at the Department of Human Services in Child Welfare, served as an Assistant Youth Director for Christian Education, served on the Saving Our Kids board, served on the Palmer Drug Abuse Program as a board member, served as a Director of Children's Church, served as the coordinator and school liaison of the Holiday Gift Basket Giveaway for the Christian Minister's Alliance, served as a classroom volunteer for Tulsa and Tahlequah public schools, worked as an Apartment Manager for University Family Housing, and served as an After-School Tutoring Coordinator. I have taught both publicly and privately for 38 years with 20 of those years being in Human and Family Sciences (HFS), Counseling and Psychology, and Human Development and Family Students (HDFS).
Education:
MS, Education, Northeastern State University, 2001
BS, Family and Consumer Sciences, Northeastern State University, 1999
OtherAssociate of Arts, Education, Tulsa Community College , 1997
My research interests are Relationships and Marriage and Human Development.
My teaching interests are in Human and Family Development. More specifically Relationships and Marriage, Child Development, Consumerism, and Family Development.
Presentations:
Alumni Member Satisfaction and Recruitment - Phi Upsilon Omicron Conclave 2016 September 22-24, 2016 - Oklahoma City, OK - September 2016
Courses Taught:
THE DEVELOPING CHILD - HDFS 3143 - Fall 2020
CHALLENGES IN THE FAMILY - HDFS 3623 - Fall 2020
DIVERSE FAMILY SYSTEMS - HDFS 3863 - Fall 2020
FAMILY ENGAGEMENT - HDFS 3833 - Fall 2020
PSYCH OF INFANCY & CHILDHOOD - PSYC 4133 - Fall 2020
PSYCHOLOGY OF HUMAN SEXUALITY - PSYC 4343 - Summer 2020
LIFE-SPAN DEVELOPMENT - PSYC 2023 - Summer 2020
PSYCHOLOGY OF ADOLESCENCE - PSYC 3323 - Spring 2020
CHALLENGES IN THE FAMILY - HDFS 3623 - Spring 2020
FAMILY ENGAGEMENT - HDFS 3833 - Spring 2020
LIFE-SPAN DEVELOPMENT - PSYC 2023 - Spring 2020
PSYCH OF INFANCY & CHILDHOOD - PSYC 4133 - Spring 2020
PSYCHOLOGY OF ADOLESCENCE - PSYC 3323 - Fall 2019
CHALLENGES IN THE FAMILY - HDFS 3623 - Fall 2019
FAMILY ENGAGEMENT - HDFS 3833 - Fall 2019
LIFE-SPAN DEVELOPMENT - PSYC 2023 - Fall 2019
PSYCH OF INFANCY & CHILDHOOD - PSYC 4133 - Fall 2019
PSYCHOLOGY OF HUMAN SEXUALITY - PSYC 4343 - Summer 2019
LIFE-SPAN DEVELOPMENT - PSYC 2023 - Summer 2019
PSYCHOLOGY OF ADOLESCENCE - PSYC 3323 - Spring 2019
LIFE-SPAN DEVELOPMENT - PSYC 2023 - Spring 2019
PSYCH OF INFANCY & CHILDHOOD - PSYC 4133 - Spring 2019
PSYCH OF INFANCY & CHILDHOOD - PSYC 4133 - Spring 2019
RELATIONSHIPS & MARRIAGES - HFS 1103 - Fall 2018
CONSUMER ISSUES - HFS 3113 - Fall 2018
LIFE-SPAN DEVELOPMENT - PSYC 2023 - Fall 2018
PREADOLESCENT/ADOLESCENT DEVEL - HFS 3783 - Fall 2018
PROFESSIONAL DEVELOPMENT - HFS 4633 - Fall 2018
PSYCHOLOGY OF HUMAN SEXUALITY - PSYC 4343 - Summer 2018
RELATIONSHIPS & MARRIAGES - HFS 1103 - Spring 2018
RELATIONSHIPS & MARRIAGES - HFS 1103 - Spring 2018
PREADOLESCENT/ADOLESCENT DEVEL - HFS 3783 - Spring 2018
CHILD DEVELOPMENT - HFS 3423 - Spring 2018