Mai Anh Vu Tran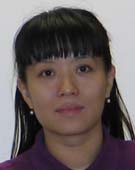 Dr Mai Anh Vu Tran
Associate Professor
Technology Broken Arrow
Office Location
Broken Arrow
Broken Arrow Business & Technology 122D
(918) 449-6547
Bio
Dr. MaiAnh VuTran is an Associate Professor in the Environmental, Health, and Safety Management program. She has joined Northeastern State University since August 2011. Dr. VuTran was the Chair of Department of Information Systems and Technlogy from August 2019 to June 2022. She is the faculty co-advisor for the American Society of Safety Professional's NSU Broken Arrow Student Section. Dr. VuTran is a Certified Hazardous Materials Manager (CHMM).
Education:
PhD, Environmental Engineering, Utah State University, 2008
MS, Chemical Engineering, University of Utah, 2005
BS, Chemical Engineering, Ho Chi Minh City University of Technology, 2001
Dr. VuTran's research interests are related to pollution prevention and environmental sustainability.
Dr. VuTran is interested in teaching chemical engineering, environmental engineering, and enevironmental management subjects.
Presentations:
An Overview of Brownfield Site Redevelopment in Oklahoma - 2023 NSU Library Earth Day Event - Tahlequah - April 2023
An Example Of Enerygy-From-Waste:Covanta Tulsa, Oklahoma - Oklahoma Research Day - Enid, Oklahoma - March 2018
REDUCE REUSE RECYCLE AS A ROUTINE - 2022 NSU LIbrary Earth Day Event - Tahlequah - April 2022
Flooding in Ho Chi Minh City Causes And Sustainable Solutions - Oklahoma Research Day - Tahlequah, Oklahoma - March 2016
Sustainability Evaluation of Biosolids Land Application of Disturbed Rangelands - Oklahoma Research Day - Tahlequah - March 2016
Chrominum Usage In Aerospace Industry - Oklahoma Research Day - Lawton, OK - March 2021
Courses Taught:
AIR POLLUTION CONTROL - EHSM 5353 - Fall 2019