Cheryl Van Den Handel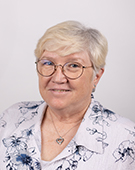 Dr Cheryl Van Den Handel
ASSOCIATE PROFESSOR
Political Science
Office Location
Tahlequah
Wilson Hall 323
(918) 444-3524
Bio
Dr. Van Den Handel is originally from Richmond, Virginia, and married her Navy husband in 1982. They have 2 sons and a grand-daughter, and numerous cats. She began her involvement in politics as an activist in Northern California, returning to college at the age of 33. She completed her doctorate in 2008. She currently resides in Broken Arrow, Oklahoma and teaches at NSU Tahlequah both online and face-to-face.
Education:
PhD, Comparative and World Politics, Claremont Graduate University, 2008
MA, Master of International Studies, Claremont Graduate University, 2004
MA, Master of Public Administration, Texas A&M University - Corpus Christi, 2000
BA, Political Science, Texas A&M University - Corpus Christi, Cum laude, 1998
OtherAssociates Degree, Political Science, College of Marin, 1997
Development issues of women in developing countries. The women's movement in U.S. "red" states compared with blue states, women in politics, Immersive Learning in Political Science, "empathy and student success in Higher Ed".
Comparative Politics within regions: MENA, Latin America, Europe; Environmental Politics, Women in conflict and peace, Human Rights; courses involving immersive learning (simulations) such as American Foreign Policy, International Relations, & Model United Nations
Intellectual Content:
Attitudes Towards Women and Politics in Select Southeast Asian Countries (Journal Article, Professional Journal), Discovery, Revising to Resubmit,
Comparative Politics: Integrating Theories, Methods, and Cases/ (Other), Teaching & Learning, Published, August, 2018
Engaging Discussions in the Online & Classroom Environment (Newsletter), Teaching & Learning, Published, April (2nd Quarter/Spring), 2013
Social Networking among women in disrupted societies of the Middle East and Africa (Journal Article, Academic Journal), Discovery, Published, June, 2014
Presentations:
The Rise of the Women's Movement in Oklahoma - Oklahoma Research Day - - March 2020
The Rise of the Women's Movement in Oklahoma - Midwest Political Science Association Conference - Chicago, Il. - April 2019
Great Decisions: Climate Change and the Global Order - - Muskogee Library - March 2020
Immersive Learning at Northeastern State University: A Dialogue. - Oklahoma Research Day - Enid, Oklahoma - March 2018
Conflict in the South China Sea - - Northeastern State University - April 2017
Great Decisions: Decoding U.S.-China Trade - - Muskogee Library - April 2019
Great Decisions: Refugees and Global Migration - - Muskogee Library - March 2019
Women's Social and Political Empowerment in Africa - Oklahoma Research Day - - March 2015
Networking for Political Voice Among Women in Disrupted Societies of the Middle East and Africa - Midwest Political Science Association Conference - Chicago, Il. - April 2014
Politically Motivated Internet Social Network Mobilization: Authoritarian Rule, Public Dissent, and Police Crackdowns in the Middle East 2011 - International Studies Association Conference - San Diego - April 2012
Courses Taught:
AMERICAN FOREIGN POLICY - POLS 4413 - Fall 2020
SEMINAR IN AMERICAN POLICY - AMST 5033 - Fall 2020
AMERICAN FEDERAL GOVERNMENT - POLS 1113 - Spring 2020
INTRODUCTION TO INTL RELATIONS - POLS 2313 - Spring 2020
REGIONAL POLITICS - POLS 4153 - Spring 2020
MODEL UNITED NATIONS - POLS 3011 - Spring 2020
INTRO TO COMPARATIVE POLITICS - POLS 2353 - Fall 2019
TOPICS IN GLOBAL ISSUES - POLS 4603 - Spring 2019
INTRO WOMEN'S & GENDER STUDIES - WGS 2123 - Fall 2018