Tobi Thompson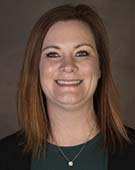 Dr Tobi Thompson
Professor/DirectorCappi Wadley
Curriculum and Instruction
Office Location
Tahlequah
Bagley Hall 229
(918) 444-3710
Bio
Tobi S. Thompson, Ph.D., alumnae of NSU, and certified dyslexia therapist, joined the faculty of NSU in 2010. She serves as the director of the Cappi Wadley Reading and Technology Center on the Tahlequah campus and the Dr. Susan E. Brackett Endowed Chair of Reading. In addition, she teaches courses in reading/literacy and provides professional development in literacy education to area schools.
Education:
OtherCertificate Program, Certified Dyslexia Therapist, Anitoch Midwest University, 2017
PhD, Education, Oklahoma State University, 2007
MS, College Teaching, Northeastern State University, 1999
BA, English Education, Northeastern State University, 1995
Her research interests include dyslexia, graphic novels to increase student motivation to read, improving teacher effectiveness, and rural education. Dr. Thompson is passionate about making education accessible and relevant to all children and their families
Dr. Thompson's teaching interests include helping teachers better teach reading to all students, especially those who struggle, as well as increasing student motivation. Dr. Thompson enjoys coaching teachers in best practices.
Performances:
April 2016 - April 2016, Other, RACE (Louisville, KY)


RACE
Intellectual Content:
"In A Reading State of Mind" (Book Review), Application, Submitted,
Mentoring Female Leaders at Multiple Levels in One University (Book, Chapter in Scholarly Book-New), Discovery, Accepted,
Preparing Effective Literacy Educators Through Professional Development (Conference Proceeding), Discovery, Published, June, 2018
Reading: Between the Lines, a Newsletter for Cappi Wadley Reading and Technology Center (Newsletter), Application, Published, December, 2012
Presentations:
Comprehension Needs of Struggling Readers - TOSS - NSU - June 2015
Comic Relief: How Graphic Novels Can Increase Motivation to Read - Association of Literacy Educators and Researchers - Myrtle Beach, SC - November 2016
Dyslexia 102 (elementary) - T.O.S.S. - Tahlequah, OK - June 2017
Dyslexia and Struggling Readers - Maryetta Summer Institute - Stilwell, OK - August 2019
Go International! - KDP Convocation 2015 - Orlando, FL - October 2015
Physical Activity and Reading Achievement - ALER - St. Petersburg - November 2017
Preparing Effective Literacy Educators Through Professional Development - International Conference on Higher Education Advances - Valencia, Spain - June 2018
Promoting a Growth Mindset Among Teachers Through Community-Based Partnerships: Professional Development and Other Help for Rural School Teachers - Critical Questions in Education - Seattle, WA - February 2020
The Effects of High-Intensity Physical Activity on Preadolescents' Reading Achievement - SHAPE America National Convention & Expo - Nashville, TN - March 2018
What is dyslexia? How misperceptions of dyslexia influence the teaching and remediation of reading disorders - International Dyslexia Association Annual Conference - Colorado - November 2020
Courses Taught:
DYSLEXIA & STRUGGLING READERS - READ 4213 - Fall 2020
HONORS RESEARCH II - ELED 3402 - Fall 2020
HONORS RESEARCH I - ELED 3401 - Spring 2020
SPECIAL TOPICS - ELED 4813 - Spring 2020
INNOVATIVE APPR TO READING - READ 5463 - Fall 2019
SPECIAL TOPICS - ELED 4813 - Fall 2019
CONTEMPORARY LITERACY RESEARCH - READ 5563 - Summer 2018
INTRO TO READING & WRIT ASSESS - READ 4063 - Spring 2018
INTER/MD SCH/HGH SCH READ INST - READ 5223 - Spring 2018
HONORS RESEARCH IV - ELED 4401 - Spring 2018
CONTEMPORARY LITERACY RESEARCH - READ 5563 - Fall 2017
CONTENT LITERACY K-8 - READ 4013 - Fall 2017
HONORS RESEARCH III - ELED 4402 - Fall 2017
INTER/MD SCH/HGH SCH READ INST - READ 5223 - Fall 2017
INTRO TO READING & WRIT ASSESS - READ 4063 - Fall 2017
PRACTICUM IN LITERACY - READ 5543 - Fall 2017