Alissa Proctor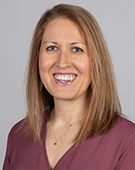 Dr Alissa Proctor
Professor
College of Optometry Admin
Office Location
Tahlequah
Optometry 101B
(918) 444-4020
Bio
Dr. Alissa Proctor, OD, FAAO, FCOVD, is a Professor at Northeastern State University Oklahoma College of Optometry. Dr. Proctor came to Tahlequah in 2005 to complete a Family Practice Residency. She is a graduate of the Michigan College of Optometry at Ferris State University and is married to Dr. Jason Proctor, the 2015 Oklahoma Teacher of the Year, who also teaches at NSU. They have two children, Jaxon and Ashtyn.
Education:
OD, Optometry, Michign College of Optometry at Ferris State University, 2005
Dr. Proctor's research interests include assessing new optometric technology, pediatrics and vision therapy.
Dr. Proctor teaches four courses. When not in class, she enjoys supervising students at school screenings, vision therapy & infant vision clinic. She is also the Primary Care Residency Supervisor, the faculty liaison for COVD, and the faculty advisor for SVOSH (mission trip group).
Presentations:
Avoiding Pediatric Pitfalls for the Primary Care Optometrist - NSU Fall Primary Eye Care Update - Tahlequah - September 2019
Judicious Prescribing - NSU Fall Primary Eye Care Update - Tahlequah - September 2019
Ethical Dilemma in the Therapy Room Poster - COVD Annual Meeting - Kansas City - April 2019
- AOA InfantSEE Event - Tahlequah, OK - October 2018
Judicious Prescribing - Oklahoma Chapter of the American Academy of Optometry - Oklahoma City - August 2017
Courses Taught:
INTRODUCTION TO CLINIC II - OPT 5191 - Fall 2019
INTRODUCTION TO CLINIC I - OPT 4291 - Spring 2019