Spence Pilcher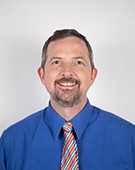 Dr Spence Pilcher
Office Location
Tahlequah
Science Building 240
(918) 444-3815
Bio
Dr. Spence Pilcher grew up on a dairy farm in Kansas, OK. He received two B.S. degrees from Northeastern State University, one in Chemistry and the other in Mathematics. Dr. Pilcher went on to receive his Ph.D. from Oklahoma State University in Chemistry (Organic emphasis). Prior to coming to NSU, he taught for four years at NWOSU in Alva, OK, and has spent two summers as a Visiting Assistant Professor at SMU in Dallas and then at University of Tennessee in Knoxville.
Education:
PhD, Chemistry, Oklahoma State University, 2000
BS, Chemistry, Northeastern State University, 1994
BS, Mathematics, Northeastern State University, 1994
Dr. Pilcher's research interests include microwave assisted organic syntheses (MAOS), polymerization in microemulsions, and ionic liquids.
Dr. Pilcher enjoys teaching General Chemistry I lecture, Organic Chemistry I and II (lecture and labs), Polymer Chemistry, Chemistry Seminar, Research in Chemistry, Nature of Matter, Essentials of Organic Chemistry, and University Strategies.
Intellectual Content:
Preparing 4-Ethoxyphenylurea Using Microwave Irradiation: Introducing Students to the Importance of Artificial Sweeteners and Microwave-Assisted Organic Synthesis (MAOS) (Journal Article, Academic Journal), Teaching & Learning, Published, February, 2017
Hybrid Course Design: A Different Type of Polymer Blend, (Journal Article, Academic Journal), Teaching & Learning, Published, May, 2017
Effects of Microwave Irradiation on the Polymerization of Styrene and Methyl Methacrylate in Microemulsions (Journal Article, Academic Journal), Discovery, Published, April (2nd Quarter/Spring), 2006
Influence of type and structure of surfactant on the stability of polystyrene particles prepared in microemulsions (Journal Article, Academic Journal), Discovery, Published, 2002
High molecular weight poly(-methylstyrene) formed by free radical polymerization in emulsions (Journal Article, Academic Journal), Published, 2001
Poly(phenyl methacrylate) and poly(1-naphthyl methacrylate) prepared in microemulsions (Journal Article, Academic Journal), Discovery, Published, 2001
Structures and Properties of Poly(methyl methacrylate) Latexes Formed in Microemulsions (Journal Article, Academic Journal), Discovery, Published, 1998
Presentations:
The Effects of Microwave Irradiation on the Polymerization of Styrene and Methyl Methacrylate in Microemulsions - International Microwaves in Chemistry Conference - Orlando, FL - March 2006
To Blend or Not to Blend: A Comparative Study of a Blended and a Traditional General Chemistry Course - 246th American Chemical Society National Meeting - Indianapolis, IN - September 2013
Alternative Heating Method for the Multistep Synthesis of Dilantin - 64th Southwest Regional Meeting of the American Chemical Society - Little Rock, AR - October 2008
Conversion of Vegetable Oil to Biodiesel Using Microwave Irradiation - Oklahoma Research Day - Edmond, OK - March 2013
Microwave Polymerization of Styrene and Methyl Methacrylate in Microemulsions: Conversion Study at Variable Power - Research Day at the Capitol - Oklahoma City, OK - April 2007
Collaborative Course Redesign: Incorporating Students in the - NSU Community and Collaboration Day - Tahlequah, OK - August 2013
Miscibility of Polymer Blends of Poly(methylphenylphosphazene) with Polystyrene, Poly (4-vinylphenol), and Poly(styrene-co-allyl alcohol) - NSU Undergraduate Research Day - Tahlequah, OK - April 2012
Syntheses of Novel Solvent Molecules for Use in Solvate Ionic Liquids - 258th National Meeting of the American Chemical Society: Chemistry and Water - San Diego, CA - August 2019
Fischer Esterification by Microwave Irradiation Using Various Alcohols (Or Chemistry Doesnt Have to Stink) - 250th American Chemical Society National Meeting - Boston, MA - August 2015
Preparation of Dulcin (4-Ethoxyphenylurea) Using Microwave Irradiation - 247th American Chemical Society National Meeting - Dallas, TX - March 2014
Courses Taught:
GENERAL CHEMISTRY I LECTURE - CHEM 1123 - Spring 2021
ORGANIC CHEMISTRY II LECTURE - CHEM 3223 - Spring 2021
HONORS RESEARCH IV - BIOL 4401 - Spring 2021
GENERAL CHEMISTRY I LECTURE - CHEM 1123 - Fall 2020
ORGANIC CHEMISTRY I LECTURE - CHEM 3123 - Fall 2020
UNIVERSITY STRATEGIES - UNIV 1003 - Fall 2020
HONORS RESEARCH III - BIOL 4402 - Fall 2020
ESS OF ORGANIC CHEMISTRY - CHEM 2004 - Summer 2020
GENERAL CHEMISTRY I LECTURE - CHEM 1123 - Summer 2020
ORGANIC CHEMISTRY II LECTURE - CHEM 3223 - Spring 2020
ORGANIC CHEMISTRY II LAB - CHEM 3231 - Spring 2020
ORGANIC CHEMISTRY II LAB - CHEM 3231 - Spring 2020
HONORS RESEARCH II - BIOL 3402 - Spring 2020
RESEARCH IN CHEMISTRY II - CHEM 4813 - Spring 2020
NATURE OF MATTER - SCI 5313 - Fall 2019
ORGANIC CHEMISTRY I LECTURE - CHEM 3123 - Fall 2019
UNIVERSITY STRATEGIES - UNIV 1003 - Fall 2019
ORGANIC CHEMISTRY I LAB - CHEM 3131 - Fall 2019
ORGANIC CHEMISTRY I LAB - CHEM 3131 - Fall 2019
HONORS RESEARCH I - BIOL 3401 - Fall 2019
GENERAL CHEMISTRY I LECTURE - CHEM 1123 - Summer 2019
ESS OF ORGANIC CHEMISTRY - CHEM 2004 - Summer 2019
RESEARCH IN CHEMISTRY II - CHEM 4812 - Summer 2019
ORGANIC CHEMISTRY II LECTURE - CHEM 3223 - Spring 2019
ORGANIC CHEMISTRY II LAB - CHEM 3232 - Spring 2019
POLYMER CHEMISTRY - CHEM 4223 - Spring 2019
ORGANIC CHEMISTRY I LECTURE - CHEM 3123 - Fall 2018
ORGANIC CHEMISTRY I LAB - CHEM 3132 - Fall 2018
ORGANIC CHEMISTRY I LAB - CHEM 3132 - Fall 2018
NATURE OF MATTER - SCI 5313 - Fall 2018
UNIVERSITY STRATEGIES - UNIV 1003 - Fall 2018