Ahmet Ozturk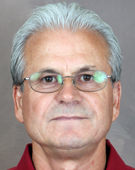 Dr Ahmet Ozturk
PROFESSOR
Health and Kinesiology
Office Location
Tahlequah
RiverHawks Wellness Center 133
(918) 444-3912
Bio
Born in Antalya/Turkey May 1, 1954. Came to Oklahoma March 6/1974. Attended Oklahoma State University. Received Educational Doctorate Degree in 5/10/1983.
Worked as a cardiopulmonary rehabilitation coordinator from February 1984 through July 1991 at St John Hospital in Tulsa, Oklahoma. Became naturalized US citizen in September 2002.
Started teaching at NSU Health and Kinesiology Department August 1991 to present.
Highlights of my years at NSU are experiencing all of the positive changes/ developments in and around NSU and Tahlequah. What I like the most about my job is helping students to achieve their educational goals and grow as unique individuals.
I enjoy spending time with my family and friends, traveling, gardening, and attending sporting events.
Education:
EdD, Health and Exercise Science , Oklahoma State University, 1983
Effects of physical activity and exercise on aging process.
Soccer Skill Development of Children.
Exercise and sports physiology related courses.
Presentations:
Cardiovascular Disease in Ok - OAHPERD Annual Convention - Edmond , Ok - October 2019
Cardiovascular Disease in Oklahoma: Scope and Impact - The Annual Oklahoma Alliance for Health, Physical Education, Recreation, and Dance convention - Edmond, OK - October 2019
Diversity: Who's in? - Community and Collaboration Day Fall 2018 - Tahlequah - August 2018
Courses Taught:
SPORTS PHYSIOLOGY - H ED 4523 - Fall 2020
PHYSIOLOGY OF EXERCISE - H ED 4333 - Fall 2020
INSTRUMENTATION IN EXER PHYS - H ED 4503 - Spring 2020
CARDIOPULMONARY REHABILITATION - H ED 4533 - Spring 2020
FITNESS ASSESS & EXER PRESC - H ED 5303 - Fall 2019
PRACTICUM - P ED 4811 - Fall 2019
SPORTS PHYSIOLOGY - H ED 4523 - Spring 2019
PRACTICUM - P ED 4812 - Spring 2019
CARDIOPULMONARY REHABILITATION - H ED 4533 - Fall 2018
INSTRUMENTATION IN EXER PHYS - H ED 4503 - Fall 2018
SPORTS PHYSIOLOGY - H ED 4523 - Spring 2018
PHYSIOLOGY OF EXERCISE - H ED 4333 - Spring 2018