Benjamin Ofili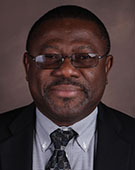 Dr Benjamin Ofili
Associate Dean/Professor
Management
Office Location
Tahlequah
Business & Technology 132B
(918) 444-2963
Additional Contact Methods
Bio
Dr. Benjamin Ofili is a Professor of Management and currently serve
as the associate dean of the College of Business & Technology at Northeastern
State University, Oklahoma, USA. Dr.
Ofilis teaching and research interests include entrepreneurship, management,
leadership, sales, savings and investment. Over
the span of 18 years at NSU, Dr. Ofili have served in many roles including entrepreneurship
program coordinator and the department chair of Business Administration
department.
Dr. Ofilis professional / industry experience include over 30
years of entrepreneurial and management experience in domestic and
international operations, including start-up businesses in service and
manufacturing sectors. He owned / managed an insurance / investment brokerage agency
in Houston, Texas. He provides consulting to businesses in various areas and facilitates
training within and outside United States.
Dr. Ofili holds a Doctor of Business
Administration degree (DBA) in Management from Case Western Reserve University
and an MBA from Texas A&M University, College Station, Texas.
He has made presentations at academic and professional conferences
including the Academy of Management.
Education:
OtherDoctor of Business Administration (DBA),Management,Case Western Reserve University,,2004
MBA,Managment ,Texas A & M University,,2001
BBA,Business Administration,Texas Southern University,,1981
Entrepreneurship
Management
Sales / Marketing
Savings / Investment



Entrepreneurship
Management
Organizational Behavior
Human Resource Management
Courses Taught:
CREATIVITY, INNOVA & OPPORT - MGMT 3323 - Summer 2020
PRINCIPLES OF MANAGEMENT - MGMT 3183 - Summer 2020
ENTREPRENEURIAL FINANCE - MGMT 3553 - Summer 2020
NEW VENTURE CREATION - MGMT 4243 - Spring 2020
SMALL BUSINESS MANAGEMENT - MGMT 4543 - Fall 2019
HONORS RESEARCH IV - MGMT 4401 - Spring 2018