Michael Morgan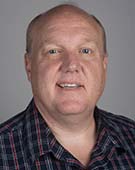 Michael Morgan
Assistant Professor
Biology
Office Location
Tahlequah
Science Building 140
(918) 444-3826
Bio
Dr. Michael Morgan completed his undergraduate studies in Biochemistry at Brigham Young University and received his Ph. D. in Oncological Sciences from the University of Utah in the lab of Dr. Andrew Thorburn, where he studied death receptor signaling. After postdoctoral training in the lab of Dr. Zheng-Gang Liu at the National Institutes of Health (National Cancer Institute), where he studied mechanisms of TNF signaling and necrosis, he became an Assistant Professor in the Department of Pharmacology in the University of Colorado School of Medicine in 2011. In the Fall of 2018, Dr. Morgan came to Northeastern State. His research interests currently include autophagy and programmed necrosis in cancer, as well the sensitivity of metastatic cancer cells to lysosomal inhibition.
Education:
PhD, Oncological Sciences, University of Utah, 2001
BS, Biochemistry, Brigham Young University, Cum laude, 1996
My research interests center around two sometimes antagonistic and highly interconnected processes, namely, programmed cell death and autophagy, which are pertinent to cancer and its treatment. Additionally, I am interested in the sensitivity of metastatic cancer cells to lysosomal inhibitors.
Introductory Biology,
Biology 1 lab
Cell Biology
Molecular and Cellular Biology Lab
Immunology
Trends in Molecular Biology
Biochemistry
Intellectual Content:
Metastatic Cells are Preferentially Vulnerable to Lysosomal Inhibition. (Journal Article, Academic Journal), Discovery, Accepted, August, 2018
Methylation-dependent loss of RIP3 expression in cancer represses programmed necrosis in response to chemotherapeutics. (Journal Article, Academic Journal), Published, June, 2015
MicroRNAs modulate the noncanonical transcription factor NF-kappaB pathway by regulating expression of the kinase IKKalpha during macrophage differentiation. (Journal Article, Academic Journal), Published, September, 2010
TNF-induced activation of the Nox1 NADPH oxidase and its role in the induction of necrotic cell death. (Journal Article, Academic Journal), Published, June, 2007
RIP1 negatively regulates basal autophagic flux through TFEB to control sensitivity to apoptosis. (Journal Article, Academic Journal), Published, June, 2015
Regulation of autophagy and chloroquine sensitivity by oncogenic RAS in vitro is context-dependent. (Journal Article, Academic Journal), Published, October (4th Quarter/Autumn), 2014
Nuclear and cytoplasmic shuttling of TRADD induces apoptosis via different mechanisms. (Journal Article, Academic Journal), Published, June, 2002
Membrane-bound Fas ligand requires RIP1 for efficient activation of caspase-8 within the death-inducing signaling complex. (Journal Article, Academic Journal), Published, September, 2009
Measurement of caspase activity in individual cells reveals differences in the kinetics of caspase activation between cells. (Journal Article, Academic Journal), Published, January (1st Quarter/Winter), 2001
Autophagy variation within a cell population determines cell fate through selective degradation of Fap-1. (Journal Article, Academic Journal), Published, January (1st Quarter/Winter), 2014
Courses Taught:
CELL BIOLOGY - BIOL 3124 - Fall 2019
RESEARCH IN BIOLOGY - BIOL 4412 - Fall 2019
RESEARCH IN BIOLOGY - BIOL 4411 - Fall 2019
INTRO BIOLOGY I - BIOL 1013 - Fall 2019
INTRO BIOLOGY I - BIOL 1013 - Fall 2019
INTRO BIOLOGY I LAB - BIOL 1011 - Fall 2019
INTRO BIOLOGY I LAB - BIOL 1011 - Fall 2019
HONORS RESEARCH I - BIOL 3401 - Fall 2019
CELL BIOLOGY LAB - BIOL 3124 - Fall 2019
RESEARCH IN BIOLOGY - BIOL 4412 - Summer 2019
CELL BIOLOGY LAB - BIOL 3124 - Spring 2019
TRENDS & ISSUES IN MOLEC. BIOL - BIOL 4242 - Spring 2019
RESEARCH SEMINAR - SCI 5511 - Spring 2019
RESEARCH SEMINAR - SCI 5511 - Spring 2019
RESEARCH IN BIOLOGY - BIOL 4412 - Spring 2019
INTRO BIOLOGY I - BIOL 1013 - Spring 2019
IMMUNOLOGY LAB - BIOL 4354 - Spring 2019
CELL BIOLOGY - BIOL 3124 - Fall 2018
CELL BIOLOGY LAB - BIOL 3124 - Fall 2018
INTRO BIOLOGY I LAB - BIOL 1011 - Fall 2018
INTRO BIOLOGY I - BIOL 1013 - Fall 2018
INTRO BIOLOGY I - BIOL 1013 - Fall 2018
RESEARCH SEMINAR - SCI 5511 - Fall 2018
RESEARCH SEMINAR - SCI 5511 - Fall 2018
CELL BIOLOGY - BIOL 3124 - Spring 2018