Wendi Middleton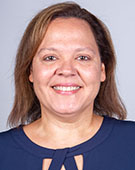 Dr Wendi Middleton
Assistant Professor
Public Health
Office Location
Muskogee
Muskogee Administration Building 186
(918) 444-3937
Bio
I am an Assistant Professor and the MPH program Director at NSU. I received my Ph.D. in Health Education from SIUC and my Masters in Biology from the UNK.
Education:
Ph D,Health Education,Southern Illinois University,,2015
MS,Biology,University of Nebraska,,2005
BS,Biology,Quincy University,,1997
OtherAS,Biology,John Wood Community College,,1994
My research interests focus mainly on prevention of tick-borne infections. Other interests include prevalence of infectious disease, obesity and lack of physical activity, and tobacco use.
Theory-based program planning, Environmental Health, Epidemiology, Global Health
Intellectual Content:
Climate change advocacy: Exploring links between student empowerment and civic engagement (Journal Article, Professional Journal), Discovery, Published, August, 2020
Presentations:
Qualitative Refinement of a Tick-Borne Disease Survey - Society for Public Health Education Conference - - April 2018
An assessment of the knowledge, attitudes, and behaviors of college students regarding tick-borne diseases - National Conference and Global Forum on Science, Policy, and Environment - - January 2017
Courses Taught:
SOCIAL & HEALTH BEHAVIOR THEOR - MPH 5043 - Fall 2020
MANAGING CHANGE PUBLIC HEALTH - MPH 5353 - Fall 2020
INTRODUCTION TO PUBLIC HEALTH - MPH 5003 - Fall 2020
ESSENTIALS FOR LEADERSHIP - MPH 5301 - Fall 2020
APPLIED RESEARCH METHODS - MPH 5223 - Summer 2020
SOCIAL & HEALTH BEHAVIOR THEOR - MPH 5043 - Spring 2020
EPIDEMIOLOGY I - MPH 5113 - Spring 2020
ENVIRON & OCCUPATIONAL HEALTH - MPH 5063 - Spring 2020