Leshay McNack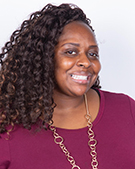 Dr. Leshay McNack
Assistant Professor
Management
Office Location
Tahlequah
Business & Technology 112
(918) 444-2904
Bio
Leshay McNack is an Assistant Professor of Management in the Human Resource discipline at Northeastern State University. Dr. McNacks teaching revolves around human resources management.
Dr. McNack completed her Doctorate of Business Administration at the University of Phoenix in March of 2018. Dr. McNack also possesses an MBA from University of Phoenix and a Bachelors of Business Administration with an emphasis of Human Resource Management from Northeastern State University.
Dr. McNack has worked in the private industry in Human Resources Management for over 19 years. Dr. McNack has also been a private consultant helping start-up businesses become compliant with HR.
Education:
DBA, Business Administration, University of Phoenix, 2018
MBA, Business Administation, University of Phoenix, 2009
BA, Business Administration, Northeastern State University , 2007
Human Resources
Organizational Development
Communication in the Workplace
Performance Management
Team Building
Employee Relations
Workforce
Human Resources, Organizational Behavior, Strategic Management, Principles of Management, Leadership and Workforce Development.