Alan McKee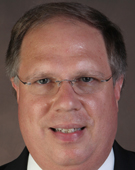 Dr Alan McKee
Professor
College of Optometry Admin
Office Location
Tahlequah
Optometry 172
(918) 444-4004
Additional Contact Methods
Alternate Phone: (918) 207-5886
Bio
Dr. Alan McKee is a graduate of the NSU Oklahoma College of Optometry and is currently a Professor and Director of Optical Services for the College. He is a member of the Oklahoma Association of Optometric Physicians, American Optometric Association, Association of Contact Lens Educators, Association of Practice Management Educators, ASCO Ophthalmic Optics SIG, a Fellow of the American Academy of Optometry, and a Diplomate of the American Board of Optometry.
Education:
OD, Optometry, Northeastern State University, Cum laude, 1996
MS, Electrical Engineering, University of Kansas, 1989
BS, Electrical Engineering, University of Kansas, 1986
Contact lenses, spectacles, practice management particularly related to EHR software systems.
Dr. McKee teaches courses in ophthalmic optics, environmental vision and contact lenses. He is also a clinical instructor in the NSUOCO clinics, Cherokee Nation W. W. Hastings Hospital and Outpatient Health Center and the Rural Eye Program.
Intellectual Content:
Dispensing and Adaptation Issues with Progressive Addition Lenses (Book, Chapter in Scholarly Book-New), Teaching & Learning, Published, September, 2018
Optical curricula in optometry schools and colleges are we properly preparing students for private practice? (Conference Proceeding), Discovery, Published, June, 2006
Presentations:
2018 Ophthalmic Lens Update with Clinical Cases - 2018 OAOP Vision Summit - Norman, OK - April 2018
Contact Lens Practice: Clinical Cases with Panel Discussion - Primary Care CE Conference, NSUOCO - - September 2015
Digital Progressives - 2013 OAOP Spring Conference - Norman, OK - April 2013
Free-form Lenses: Lessons Learned - Northeastern State University Oklahoma College of Optometry Fall Primary Care Update - Tahlequah, OK - September 2015
Legal Issues in Personnel Hiring, Reprimand and Termination - Post Graduation Professional Business Opportunities Fair and Continuing Education Meeting - Tahlequah, OK - July 2007
Medical Management of Glaucoma - NSU Oklahoma College of Optometry 100 Hour Therapeutics Course - Tahlequah, OK - May 2009
Ophthalmic Frame Adjustments - 2016 OAOP Fall Conference - Tulsa, OK - October 2016
Update Lenses, Technology and Materials - Northeastern State University Oklahoma College of Optometry Primary Care Update - Tahlequah, OK - September 2010
Courses Taught:
OPHTHALMIC OPTICS II - OPT 5223 - Spring 2017