Ingrid Massey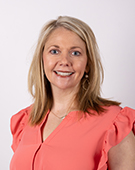 Dr Ingrid Massey
Assoc Prof/Dir Ctr Read & Lit
Curriculum Instruction BA
Office Location
Broken Arrow
Broken Arrow Education Reading Clinic, 128
(918) 449-6587
Bio
Dr. Ingrid Massey joined the faculty of NSU full-time in 2009 after serving as an adjunct instructor since 2005. Dr. Massey primarily teaches graduate courses for students enrolled in the reading master's program. In 2020, Dr. Massey was appointed director of the Broken Arrow Reading Clinic where struggling readers in the BA and surrounding communities are served. An alum of NSU, she holds a bachelor's degree in early childhood education, a master's degree in reading education from Oklahoma State University, and a doctorate in higher education and adult learning from Walden University. Dr. Massey is passionate about sharing her love of classroom teaching, especially working with beginning and struggling readers.
Education:
EdD, Higher Education and Adult Learning , Walden University, Magna cum laude, 2016
MS, Teaching, Learning and Leadership, Oklahoma State University, Cum laude, 2003
BS, Early Childhood Education, Northeastern State University , Cum laude, 1996
Dr. Massey's research interests include early literacy development, struggling readers, and professional development in literacy.
Dr. Massey's teaching interests include early and emergent literacy development, literacy assessment, and literacy research.
Intellectual Content:
Literacy in the Early Grades, 5th Edition, Instructor's Manual and Test Bank (Instructor's Manual), Teaching & Learning, Published, January (1st Quarter/Winter), 2019
Faculty and Student Perceptions of Reading and Language Arts Preparation and Preparedness for State Subject Area Test (Manuscript), Discovery, Published, December, 2016
Preparing Effective Literacy Educators Through Professional Development (Conference Proceeding), Discovery, Published, June, 2018
Presentations:
What's Important When Learning to Read - Elementary Reading/Language Arts PD - Tahlequah, OK - January 2020
Promoting a Growth Mindset Among Teachers Through Community-Based Partnerships: Professional Development and Other Help for Rural School Teachers - Critical Questions in Education - Seattle, WA - February 2020
Preparing Effective Literacy Educators Through Professional Development - International Conference on Higher Education Advances - Valencia, Spain - June 2018
Dyslexia and Struggling Readers - Maryetta Summer Institute - Stilwell, OK - August 2019
Integrating Literacy Acquisition Strategies - Indigenous History and Literacy Project - Tahlequah, OK - October 2018
Faculty and Student Perceptions of Reading and Language Arts Preparedness and Preparation for the State Subject Area Test - 49th Annual Rocky Mountain Educational Research Association Conference - Lawton, OK - October 2017
Supporting Struggling Readers - Maryetta Summer PD - Stilwell, OK - August 2020
Small Group Instruction - Strategies and Interventions - PK-3rd - Colcord Summer Institute - Colcord, OK - July 2019
What To Do When You Can't Do RTI - T.O.S.S. - Tahlequah, OK - June 2019
Promoting a Growth Mindset Among Teachers Through Community Based Partnerships - OACTE Annual Conference - Broken Arrow, OK - October 2019
Courses Taught:
ISSUES IN FAC LITERACY DEVELOP - READ 5572 - Fall 2020
EMERGENT & EARLY LIT DEV - READ 5113 - Fall 2020
APPLIED ASSESSMENT - READ 5484 - Fall 2020
CONTEMPORARY LITERACY RESEARCH - READ 5563 - Summer 2020
ISSUES IN FAC LITERACY DEVELOP - READ 5572 - Spring 2020
EMERGENT & EARLY LIT DEV - READ 5113 - Spring 2020
CONTEMPORARY LITERACY RESEARCH - READ 5563 - Spring 2020
APPLIED ASSESSMENT - READ 5484 - Spring 2020
EMERGENT & EARLY LIT DEV - READ 5113 - Fall 2019
EMERGENT & EARLY LIT DEV - READ 5113 - Fall 2019
EMERGENT & EARLY LIT DEV - READ 5113 - Fall 2019
CONTEMPORARY LITERACY RESEARCH - READ 5563 - Fall 2019
ISSUES IN FAC LITERACY DEVELOP - READ 5572 - Summer 2019
ISSUES IN FAC LITERACY DEVELOP - READ 5572 - Summer 2019
READ/LANG DEV OF THE YNG CHILD - READ 4023 - Spring 2019
READ/LANG DEV OF THE YNG CHILD - READ 4023 - Spring 2019
INTRO TO READING & WRIT ASSESS - READ 4063 - Spring 2019
EMERGENT & EARLY LIT DEV - READ 5113 - Spring 2019
EMERGENT & EARLY LIT DEV - READ 5113 - Spring 2019
READ/LANG DEV OF THE YNG CHILD - READ 4023 - Fall 2018
READ/LANG DEV OF THE YNG CHILD - READ 4023 - Fall 2018
ISSUES IN FAC LITERACY DEVELOP - READ 5572 - Fall 2018
INTRO TO READING & WRIT ASSESS - READ 4063 - Fall 2018
CONTEMPORARY LITERACY RESEARCH - READ 5563 - Summer 2018
READ/LANG DEV OF THE YNG CHILD - READ 4023 - Spring 2018
INTRO TO READING & WRIT ASSESS - READ 4063 - Spring 2018
ISSUES IN FAC LITERACY DEVELOP - READ 5572 - Spring 2018
INTRO TO READING & WRIT ASSESS - READ 4063 - Spring 2018
READ/LANG DEV OF THE YNG CHILD - READ 4023 - Fall 2017
ISSUES IN FAC LITERACY DEVELOP - READ 5572 - Fall 2017
INTRO TO READING & WRIT ASSESS - READ 4063 - Fall 2017
Contemporary Literacy Research - READ 5563 - Fall 2017