Robyn Pursley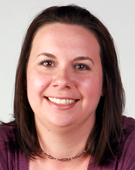 Dr Robyn Pursley
Assistant Dean/Professor
Theatre
Office Location
Tahlequah
University Playhouse 103
(918) 444-2793
Bio
Originally from Catoosa, OK, Dr. Pursley has been teaching Drama at NSU since 2003. She teaches, directs, and designs for productions in the drama program and also serves as the Artistic Director for the River City Players shows during the summer season. She also serves as an Assistant Dean in the College of Liberal Arts, focusing on the areas of recruitment, promotion, facilities, and students.
Education:
EdD, Higher Education and Leadership, University of Arkansas, 2011
MA, Theatre, Oklahoma State University, Cum laude, 2003
BA, Theatre, Northeastern State University, Magna cum laude, 2000
The impact of drama on children and the educational process.
The importance of arts education.
Drama as a therapeutic tool/technique.
The experiences of arts students in various levels of education
Stage Directing, Acting, Costume Design, Props Design, Children's Theatre, Drama in the Classroom, Theatre Makeup, Theatre Management.
Performances:
May 2017 - August 2017, Theatre - Design costumes, River City Players (Tahlequah)


River City Players

March 2019 - March 2019, Theatre - Perform, NSU Drama (Tahlequah)


NSU Drama

April 2019 - April 2019, Theatre - Musical staging, NSU Music Vocal Studios (Tahlequah)


NSU Music Vocal Studios

September 2015 - September 2015, Theatre - Write play, NSU Drama (Tahlequah)


NSU Drama

February 2017 - February 2017, Theatre - Direct play, NSU Drama (Tahlequah)


NSU Drama

September 2018 - September 2018, Theatre - Direct play, NSU Drama (Tahlequah)


NSU Drama

- July 2019, Theatre - Perform, Studio Center (Oklahoma City, OK, USA)


Studio Center

April 2017 - April 2017, Theatre - Perform, NSU Drama - New Works Play Festival (Tahlequah)


NSU Drama - New Works Play Festival

January 2019 - February 2019, Theatre - Direct play, NSU Drama (Tahlequah)


NSU Drama

April 2016 - April 2016, Theatre - Perform, NSU Drama - NxNSU Festival (Tahlequah)


NSU Drama - NxNSU Festival
Intellectual Content:
An Exploration of Collegiate Experiences of Theatre Students in a Regional University (Cited Research), Discovery, Published,
Presentations:
A Collaborative Production Design for Jones And Schmidts The Fantasticks - Oklahoma Research Day - Tahlequah, Oklahoma - March 2015
Black Comedy: Designing for a Theatrical Farce Set in the 1960s - Oklahoma Research Day - Edmond, Oklahoma - March 2013
Creating Children's Theatre Through Improvisation - Oklahoma Thespian Festival - Tulsa Community College - February 2017
Performing Theatre for Children - Arkansas Thespian Festival - Russellville, AK - February 2015
Developing a historically-based production design for an original Native American musical - Oklahoma Research Day - Edmond, Oklahoma - March 2014
Using Drama to Address Societal Issues - Renewing Our Purpose: Empowering Communities Through Civic Engagement - Norman, Oklahoma - September 2013
Student Design Panel - Faces of Activism: In the Classroom and Beyond - Broken Arrow, Oklahoma - September 2015
Improvisation and Ensemble Building - - Ada, Oklahoma - September 2017
Courses Taught:
UNIVERSITY STRATEGIES - UNIV 1003 - Fall 2017
INTRO TO DRAMA I - DRAM 2003 - Fall 2017
CAPSTONE EXPERIENCE - DRAM 4993 - Fall 2017
THEATRE APPRECIATION - DRAM 2763 - Fall 2017
SUMMER THEATRE - DRAM 4104 - Summer 2017
PROFESSIONAL SEMESTER - DRAM 4803 - Summer 2017
CHILDREN'S THEATRE - THTR 4763 - Fall 2016
ARTS MANAGEMENT - THTR 4003 - Fall 2016