Matthew Krein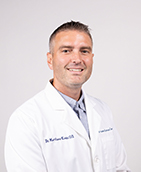 Dr Matthew Krein
Associate Professor
College of Optometry Admin
Office Location
Tahlequah
Optometry 0
(918) 444-4027
Bio
Dr. Matthew Krein was raised in Stillwater, OK where he would eventually graduate from Oklahoma State University with a degree in Biology. Following undergraduate Matt completed his Optometric education at Northeaster State Universitys Oklahoma College of Optometry. It was in Optometry school that he met his wife Sarah. They purchased a private practice in Elizabethtown, KY. Living in Kentucky Dr. Krein developed a fondness for fall foliage, bourbons, and horse racing. After a few years in Kentucky, with a 1-year-old son and a daughter on the way, Dr. Krein and his wife sold their practice and returned to Oklahoma as faculty at the Oklahoma College of Optometry. Since joining the faculty Dr. Krein has enjoyed teaching Human Anatomy and Physiology as well as supervising students and providing direct care in the colleges specialty care/advanced procedures clinic. The variety and flexibility of academic practice allows Dr. Krein to spend time with his family while still enjoying a rewarding career in eyecare.
Education:
OD, Optometry, Oklahoma College of Optometry at Northeastern State University, Summa cum laude, 2010
BS, Biology, Oklahoma State University, Magna cum laude, 2006
Ocular refractive error and disease
Human Anatomy, Physical Diagnosis, Diagnosis and treatment of ocular refractive error and disease, and Clinical skills necessary for proper examination of the eye.
Intellectual Content:
Anaphylaxis In Your Exam Lane: When a patient is gasping for air, will you be prepared? (Journal Article, Professional Journal), Discovery, Published, January (1st Quarter/Winter), 2019
A Cut Above the Rest (Journal Article, Professional Journal), Teaching & Learning, Accepted, December, 2016
Presentations:
Mangement of Anaphylaxis - NSU Residency Seminar - Tahlequah, OK - August 2018
In Office Procedures You Could Be Doing. - NSU Primary Care Update - Tahlequah, OK - September 2017
In Office Procedures You Could Be Doing. - NSU Primary Care Update - Tahlequah, OK - September 2017
Courses Taught:
CLINICAL METHODS IV - OPT 6231 - Spring 2020
HUMAN ANATOMY & PHYSIOLOGY - OPT 4167 - Fall 2019
CLINICAL METHODS IV - OPT 6231 - Spring 2019