Johnny Kirk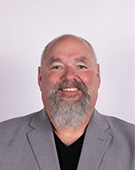 Dr Johnny Kirk
Associate Professor
Psychology
Office Location
Tahlequah
Haskell Hall 108
(918) 444-3001
Bio
Dr. Kirk's passion is investigating treatment outcomes, new modalities and the impact of animals on mental health. He has mentored over 20 students as research assistance which resulted in numerous research conferences, presentations and publications. These efforts resulting in receiving the Dewberry Outstanding Faculty in Research award in 2018.
Education:
PhD, Educational Psychology, Oklahoma State University, 2012
The effects of canines on pain and stress. Currently using the physiological markers of cortisol and alpha-amylase.
Intellectual Content:
Exploring the Influence of Internet Usage and Social Networks (Journal Article, Academic Journal), Discovery, Submitted,
Psychological Reactance as a Function of Ethnicity (Monograph), Discovery, Accepted,
Presentations:
Does RAMP designation impact school counselor leadership perceptions - Evidence-Based School Counseling Conference - Columbus Ohio - March 2019
Psychological Reactance and Implications for Education - Rocky Mountian Educational Research Association - Claremore OK - January 2016
Reject or fail to reject: That may not be the only question. - Southwestern Psychological Assn - Dallas TX - April 2016
Courses Taught:
DIRECTED RESEARCH - PSYC 4473 - Fall 2020
ASSESSMENT & STATISTICS - COUN 5053 - Fall 2020
PHARMACOLOGY: DUAL DIAGNOSIS - COUN 5693 - Spring 2020
LIFE-SPAN DEVELOPMENT - PSYC 2023 - Spring 2020
PSYCHOLOGICAL STATISTICS - PSYC 3553 - Fall 2019
ASSESSMENT & STATISTICS - COUN 5053 - Fall 2019
HONORS RESEARCH II - PSYC 3402 - Spring 2019
DIRECTED RESEARCH - PSYC 4473 - Spring 2019
PRACTICUM I - COUN 5603 - Fall 2018
FOUNDATIONS OF ADDICTION COUN - COUN 5173 - Fall 2018
COUNSELING RESEARCH - COUN 5903 - Spring 2018
ADULT DEVELOPMENT & AGING - PSYC 4363 - Spring 2018