Jonathan Janzen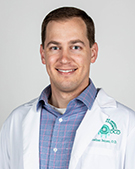 Jonathan Janzen
Associate Professor
College of Optometry Admin
Office Location
Tahlequah
Optometry 0
(918) 444-4011
Bio
Jonathan Janzen received his B.S. in Chemistry from NSU in 2012 and graduated from NSU Oklahoma College of Optometry in 2017. He joined the faculty at NSUOCO in the Fall of 2017 and is a full-time Assistant Professor.
Education:
OD, Northeastern State University Oklahoma College of Optometry, 2017
BS, Chemistry, Northeastern State University, Summa cum laude, 2012
Primary care and vision science.
Vision science and research courses.
Presentations:
Meaningful Statistics - Resident Seminar - Tahlequah - December 2020
Meaningful Statistics - Resident Seminar - Northeastern State University - November 2019
Color Vision Review - 5 State Symposium - Northeastern State University - February 2019
Courses Taught:
OPTOMETRY PROJECT II - OPT 6262 - Fall 2020
VISION SCIENCE II: SENS ASPECTS - OPT 5134 - Fall 2020
OPTOMETRY PROJECT I - OPT 6122 - Summer 2020
RESEARCH METHODOLOGY - OPT 6111 - Spring 2020
INTRODUCTION TO CLINIC I - OPT 4291 - Spring 2020
OPTOMETRY PROJECT III - OPT 7062 - Spring 2020
Introduction to Clinic I - OPT 4291 - Spring 2019