Janaki Iyer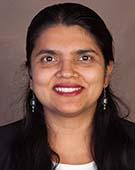 Janaki Iyer
Assistant Professor
Biology Broken Arrow
Office Location
Broken Arrow
Broken Arrow Science & Health 115
(918) 449-6479
Bio
Janaki Iyer is an Assistant Professor in the Department of Natural Sciences. Dr. Iyer got a Bachelor of Science in Chemistry followed by a Master of Science in Biotechnology from India. She pursued her doctoral studies in Molecular and Cellular Biology at Stony Brook University in New York. After attaining her doctorate degree, she completed her post-doctoral fellowship at Oklahoma Medical Research Foundation under the mentorship of Dr. Mark Coggeshall. After completing her second post-doctoral fellowship at Oklahoma State University Center for Health Sciences under the mentorship of Dr. Rashmi Kaul, Dr. Iyer joined Northeastern State University (NSU).
Dr. Iyer teaches biology courses at NSU and her teaching philosophy is to impart information in an environment that promotes the overall educational growth and development of students. She was awarded the Circle of Excellence in Teaching and the Undergraduate Faculty Mentor award. In addition to teaching, she is also passionate about research. She works with uropathogens and design projects to understand the mechanisms of infection and investigate the ability of different therapeutics to treat infections caused by these pathogens.
Education:
PhD, Molecular and Cellular Biology, State University of New York at Stony Brook, 2007
MS, Biotechnology, Indian Institute of Technology, 2002
BS, Chemistry, Mumbai University, 2000
Dr. Janaki Iyer is interested in understanding the mechanisms employed by uropathogens to infect host cells and how host cells respond to these uropathogens. She is also interested in investigating the ability of nanomaterials for the treatment of infectious diseases like urinary tract infections.
Dr. Janaki Iyer has taught Chemistry and Biology-related courses to a wide range of students. At Northeastern State University she enjoys teaching different Biology-related subjects that include Cell Biology, Genetics, Immunology, Developmental Biology, and Experimental Design among others.
Intellectual Content:
Estrogen receptor alpha differentially modulates host immunity in the bladder and kidney in response to urinary tract infection (Journal Article, Academic Journal), Integration, Published, June, 2019
Estrogen receptor expression in chronic hepatitis C and hepatocellular carcinoma pathogenesis (Journal Article, Academic Journal), Application, Published, October (4th Quarter/Autumn), 2017
Functionalized diamond nanoparticles as a drug delivery system: Loading and release study (Journal Article, Academic Journal), Integration, Published, December, 2019
Nanodiamonds facilitate killing of intracellular uropathogenic E. coli in an in vitro model of urinary tract infection pathogenesis (Journal Article, Academic Journal), Application, Published, January (1st Quarter/Winter), 2018
Presentations:
Breaking Paradigms in Science - Biology and Chemistry Seminar Series - Northeastern State University, Broken Arrow campus - February 2019
Can antibiotic-loaded liposomes be used to treat urinary tract infections? - 2019 IDeA regional conference - Oklahoma City, OK - June 2019
Antibacterial activity of 6 nm DNPs on E. coli CI5 - 2018 Undergraduate Research Conference for Arkansas INBRE - Fayetteville - November 2018
Can liposomes be used to treat kidney infections caused by invasive uropathogenic Escherichia coli? - 2019 Undergraduate Research Conference for AR-INBRE - Fayetteville, Arkansas - October 2019
Does media affect the antimicrobial actions of antibiotics on Escherichia coli? - 2020 Annual joint meeting of TABERC, Oklahoma Society of Physiologists and Tulsa Chapter of Society of Neuroscience - Tulsa, Oklahoma - July 2020
Courses Taught:
DEVELOPMENTAL BIOLOGY - BIOL 4103 - Fall 2020
IMMUNOLOGY - BIOL 4354 - Fall 2020
IMMUNOLOGY LAB - BIOL 4354 - Fall 2020
MOLECULAR & CELLULAR BIOL LAB - BIOL 4232 - Fall 2020
SENIOR SEMINAR - BIOL 4621 - Fall 2020
RESEARCH IN BIOLOGY - BIOL 4412 - Fall 2020
RESEARCH IN NATURAL SCIENCES - SCI 5533 - Fall 2020
THESIS - SCI 5902 - Fall 2020
RESEARCH IN NATURAL SCIENCES - SCI 5533 - Summer 2020
DEVELOPMENTAL BIOLOGY - BIOL 4103 - Summer 2020
ADVANCED TOPICS IN BIOLOGY - BIOL 5203 - Spring 2020
RESEARCH IN NATURAL SCIENCES - SCI 5531 - Spring 2020
DEVELOPMENTAL BIOLOGY - BIOL 4103 - Spring 2020
IMMUNOLOGY - BIOL 4354 - Spring 2020
IMMUNOLOGY LAB - BIOL 4354 - Spring 2020
MOLECULAR & CELLULAR BIOL LAB - BIOL 4232 - Spring 2020
SENIOR SEMINAR - BIOL 4621 - Spring 2020
RESEARCH IN BIOLOGY - BIOL 4413 - Spring 2020
EXPERIMENTAL DESIGN - BIOL 4002 - Fall 2019
RESEARCH IN BIOLOGY - BIOL 4413 - Fall 2019
RESEARCH IN NATURAL SCIENCES - SCI 5531 - Fall 2019
MEDICAL MICROBIOLOGY - BIOL 4164 - Fall 2019
MEDICAL MICRO LAB - BIOL 4164 - Fall 2019
MOLECULAR & CELLULAR BIOL LAB - BIOL 4232 - Fall 2019
SENIOR SEMINAR - BIOL 4621 - Fall 2019
MEDICAL MICROBIOLOGY LAB - BIOL 5164 - Fall 2019
MEDICAL MICROBIOLOGY - BIOL 5164 - Fall 2019
DEVELOPMENTAL BIOLOGY - BIOL 4103 - Summer 2019
SELECTED TOPICS IN BIOLOGY - BIOL 4502 - Summer 2019
DEVELOPMENTAL BIOLOGY - BIOL 5103 - Summer 2019
RESEARCH IN BIOLOGY - BIOL 4413 - Summer 2019
IMMUNOLOGY LAB - BIOL 4354 - Spring 2019
RESEARCH IN BIOLOGY - BIOL 4413 - Spring 2019
SENIOR SEMINAR - BIOL 4621 - Spring 2019
MOLECULAR & CELLULAR BIOL LAB - BIOL 4232 - Spring 2019
IMMUNOLOGY - BIOL 4354 - Spring 2019
SELECTED TOPICS IN BIOLOGY - BIOL 4502 - Spring 2019
SENIOR SEMINAR - BIOL 4621 - Fall 2018
TRENDS & ISSUES IN MOLEC. BIOL - BIOL 5242 - Fall 2018
RESEARCH IN BIOLOGY - BIOL 4412 - Fall 2018
CELL BIOLOGY LAB - BIOL 3124 - Fall 2018
MOLECULAR & CELLULAR BIOL LAB - BIOL 4232 - Fall 2018
GENETICS - BIOL 3114 - Summer 2018
GENETICS LAB - BIOL 3114 - Summer 2018
TRENDS & ISSUES IN MOLEC. BIOL - BIOL 4242 - Spring 2018
TRENDS & ISSUES IN MOLEC. BIOL - BIOL 5242 - Spring 2018
INTRO BIOLOGY I LAB - BIOL 1011 - Spring 2018
CELL BIOLOGY LAB - BIOL 3124 - Spring 2018
CELL BIOLOGY - BIOL 3124 - Spring 2018
INTRO BIOLOGY I - BIOL 1013 - Spring 2018
IMMUNOLOGY LAB - BIOL 4354 - Spring 2018
RESEARCH IN BIOLOGY - BIOL 4412 - Spring 2018
CELL BIOLOGY - BIOL 3124 - Fall 2017
CELL BIOLOGY LAB - BIOL 3124 - Fall 2017
INTRO BIOLOGY I - BIOL 1013 - Fall 2017
INTRO BIOLOGY I LAB - BIOL 1011 - Fall 2017