Deborah Hyde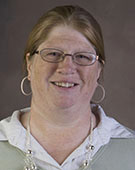 Deborah Hyde
Instructor
General Physical Science
Office Location
Tahlequah
SL 127
(918) 444-3817
Bio
Deb Hyde has been teaching a variety of undergraduate and graduate courses at Northeastern State University in the Department of Natural Sciences since 2008.
Education:
MS, Geoscience, Mississippi State University, Cum laude, 2006
BS, Secondary Science Education with Biology Emphasis, Northeastern State University, Cum laude, 1996
Deb Hyde's research interests include environmental water quality and effective geoscience teaching methods.
Deb Hyde teaches all of the Geoscience courses offered at Northeastern State University. She also fills in as needed teaching Biology courses such as Environmental Problems and Introductory Biology 1 Lab.
Presentations:
Dinosaur Fossils - STEM Day at NSU - College of Science and Health Professions - June 2016
Collaborative Course Redesign: Incorporating Students in the - NSU Community and Collaboration Day - Tahlequah, OK - August 2013
Courses Taught:
EARTH SCIENCE LAB - SCI 4124 - Fall 2020
ENVIRONMENTAL GEOLOGY LAB - GEOL 4134 - Fall 2020
ENVIRONMENTAL GEOLOGY - GEOL 4134 - Fall 2020
INTRO BIOLOGY I LAB - BIOL 1011 - Fall 2020
PHYSICAL GEOLOGY - GEOL 1114 - Fall 2020
PHYSICAL GEOLOGY LAB - GEOL 1114 - Fall 2020
PHYSICAL GEOLOGY LAB - GEOL 1114 - Fall 2020
ENVIRONMENTAL PROBLEMS - BIOL 3413 - Summer 2020
EARTH SCIENCE LAB - SCI 4124 - Spring 2020
EARTH SCIENCE LAB - SCI 4124 - Spring 2020
ENVIRONMENTAL PROBLEMS - BIOL 3413 - Spring 2020
HISTORICAL GEOLOGY LAB - GEOL 2004 - Spring 2020
HISTORICAL GEOLOGY - GEOL 2004 - Spring 2020
OCEANOGRAPHY - GEOL 4113 - Spring 2020
EARTH SCIENCE LAB - SCI 4124 - Fall 2019
EARTH SCIENCE LAB - SCI 4124 - Fall 2019
ENVIRONMENTAL GEOLOGY LAB - GEOL 4134 - Fall 2019
ENVIRONMENTAL GEOLOGY LAB - GEOL 4134 - Fall 2019
ENVIRONMENTAL GEOLOGY - GEOL 4134 - Fall 2019
PHYSICAL GEOLOGY LAB - GEOL 1114 - Fall 2019
PHYSICAL GEOLOGY LAB - GEOL 1114 - Fall 2019
PHYSICAL GEOLOGY - GEOL 1114 - Fall 2019
ENVIRONMENTAL PROBLEMS - BIOL 3413 - Summer 2019
EARTH SCIENCE LAB - SCI 4124 - Spring 2019
EARTH SCIENCE LAB - SCI 4124 - Spring 2019
ENVIRONMENTAL PROBLEMS - BIOL 3413 - Spring 2019
HISTORICAL GEOLOGY LAB - GEOL 2004 - Spring 2019
HISTORICAL GEOLOGY - GEOL 2004 - Spring 2019
OCEANOGRAPHY - GEOL 4113 - Spring 2019
ADV TOPICS IN GRADUATE BIOLOGY - BIOL 5204 - Fall 2018
EARTH SCIENCE LAB - SCI 4124 - Fall 2018
EARTH SCIENCE LAB - SCI 4124 - Fall 2018
ENVIRONMENTAL GEOLOGY LAB - GEOL 4134 - Fall 2018
ENVIRONMENTAL GEOLOGY LAB - GEOL 4134 - Fall 2018
ENVIRONMENTAL GEOLOGY - GEOL 4134 - Fall 2018
PHYSICAL GEOLOGY LAB - GEOL 1114 - Fall 2018
PHYSICAL GEOLOGY LAB - GEOL 1114 - Fall 2018
PHYSICAL GEOLOGY - GEOL 1114 - Fall 2018
ENVIRONMENTAL PROBLEMS - BIOL 3413 - Summer 2018