Carolyn Cox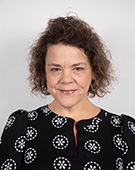 Carolyn Cox
Assistant Professor
Social Work
Office Location
Tahlequah
Wilson Hall 140
(918) 444-3531
Bio
Dr. Carolyn Cox earned a BSW from the Northeastern State University program in May 2001 and then completed an MSW (clinical concentration) at the University of Oklahoma in 2002. In 2005, she completed supervision, obtained a License in Clinical Social Work (LCSW) for the state of Oklahoma, and maintains her license to date. She began her academic career in 2004 as an adjunct instructor for the NSU Social Work program and then became a full-time instructor, serving as the BSW program's field director from August 2006 to May 2018. Now, Dr. Cox is an assistant professor and is the MSW field director.
Education:
PhD, Higher Education Leadership and Policy , Oklahoma State University , 2019
OtherMSW , Master of Social Work , University of Oklahoma , 2002
OtherBSW, Bachelor of Social Work, Northeastern State University , 2001
Research interests are focused on student success in the classroom and implementing institutional strategies or initiatives that support students' degree completion.
Dr. Cox's teaching interests are in social work practice courses in which students learn and enhance direct practice skills such as assessment, treatment plan development, and intervention strategies with individuals, families, and groups.
Presentations:
Aging Out of Foster Care: The Unique Perspective on Finishing College - Oklahoma Heartland Conference - Oklahoma City, OK - March 2020
Courses Taught:
ECOLOGICAL APPROACH TO PRACTIC - SOWK 5233 - Summer 2020
PRACTICE HEALTH/BEHAV HTH SETT - SOWK 5463 - Summer 2020
PRACTICE I - SOWK 5013 - Spring 2020
ADV PRACTICUM & SEMINAR I - SOWK 5604 - Spring 2020
ADV PRACTICUM & SEMINAR II - SOWK 5804 - Spring 2020