Maria Gray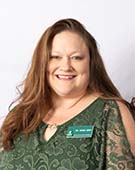 Dr Maria Gray
Associate Professor
Educational Leadership BA
Office Location
Broken Arrow
Broken Arrow Education 145
(918) 449-6522
Bio
Dr. Maria Gray has taught in higher education for over 18 years. She has experience teaching traditional, online, and blended courses, having worked at Tulsa Community College, University of Arkansas, and Oklahoma State University Institute of Technology. She is a certified Phi Theta Kappa Leadership Instructor and winner of the OSRHE Online Excellence Award, The John & Susanne Roueche Excellence in Teaching Award, and OSU A&M Regents Distinguished Teaching Award. She has been nominated for the NSU Circle of Excellence in Teaching Award and the Dewberry Outstanding Faculty in Teaching Award. She has served as the NSU Review of Online Course Coordinator, and taught in China with the China Bridge Program. Dr. Gray joined the faculty of NSU in 2015.
Education:
EdD, Higher Education Administration, Oklahoma State University, 2007
MS, College Teaching the Language Arts, Northeastern State University , 2001
BA, English, Northeastern State University , Cum laude, 1999
Dr. Maria Gray's research, publications and conference presentations include topics in technology in education, online learning, classroom management, leadership, women in higher education, and English Composition.
Dr. Gray's teaching interests are in leadership, research, ethics and legal issues in higher education, and composition.
Intellectual Content:
A Tale of Two Disciplines: Lessons in Critical Thinking (Journal Article, Academic Journal), Teaching & Learning, Published, February, 2016
A Tale of Two Disciplines: Lessons in Critical Thinking (Journal Article, Academic Journal), Teaching & Learning, Published, February, 2016
Presentations:
Lessons from Oz: Using Transformational Leadership to Advance Student Learning - Lilly Conference on Evidence-Based Teaching and Learning. Conference - Asheville, NC - April 2018
To Climb the Mountain: Exploring a Review of Online Courses (ROC) Program - 10th Annual QM Conference - St. Louis, MO - March 2018
Live Panel Discussion on Online Education Innovation - OK Learning Innovation Summit - online - April 2018
Courses Taught:
ETHICS & LEGAL ISSUES IN LDRSH - EDUC 5113 - Fall 2020
THESIS/CAPSTONE EXPERIENCE - EDUC 5913 - Fall 2020
DIRECTED RESEARCH - EDUC 5733 - Summer 2020
ADVANCED EDU MEASUREMENTS - EDUC 5483 - Fall 2019
FOUND COLLEGE STU PERSON SERV - EDUC 5533 - Fall 2019
EDUCATIONAL RESEARCH - EDUC 5103 - Fall 2019
PRACTICUM IN LEADERSHIP - EDUC 5883 - Summer 2019
INDIVID & GROUP INTERVENTIONS - EDUC 5263 - Fall 2018
ACTION RESEARCH & INQUIRY - EDUC 5133 - Fall 2017
QUALITATIVE RESEARCH - EDUC 5143 - Fall 2015