Hector Gonzalez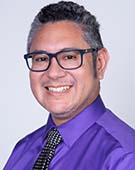 Dr Hector Gonzalez
Asst Professor/Ex Dir
College of Sci and Health Prof Admn
Office Location
Tahlequah
Science Building 156
(918) 444-3819
Bio
Dr. Gonzalez received his Ph. D. at the University of North Texas under the mentor-ship of Dr. Thomas R. Cundari. Dr. Gonzalez, has experience teaching at the high school and undergraduate level students. In addition to academia he loves to cook and garden.
Education:
PhD, Chemistry, University of North Texas, 2012
BS, Biochemistry, University of North Texas, 2006
During his graduate career, Dr. Gonzalez focused on small molecule activation via late transition metal catalysts. Now Dr. Gonzalez enjoys reading about best practices for advising and teaching.
Dr. Gonzalez enjoys teaching chemistry classes and professional development workshops.
Intellectual Content:
Control of Olefin Hydroarylation Catalysis via a Sterically and Electronically Flexible Platinum(II) Catalyst Scaffold (Journal Article, Academic Journal), Discovery, Published, June, 2013
PtII-Catalyzed Ethylene Hydrophenylation: Influence of Dipyridyl Chelate Ring Size on Catalyst Activity and Longevity (Journal Article, Academic Journal), Discovery, Published, May, 2013
A computational comparison of NiII and PtII hydrido-tris(pyrazolyl)borate supported hydroarylation catalysis (Journal Article, Academic Journal), Discovery, Published, February, 2012
Mechanistic Studies of Ethylene Hydrophenylation Catalyzed by Bipyridyl Pt(II) Complexes (Journal Article, Academic Journal), Discovery, Published, November, 2011
CO2-formatics: How do proteins bind carbon dioxide? (Journal Article, Academic Journal), Discovery, Published, August, 2009
Courses Taught:
UNIVERSITY STRATEGIES - UNIV 1003 - Fall 2020
HEALTH CAREERS PROFESSIONALISM - NUTR 4592 - Fall 2020
GENERAL CHEMISTRY I LAB - CHEM 1131 - Fall 2020
HEALTH PROFESSION SCHOOL PREP - PPH 3901 - Spring 2020
GENERAL CHEMISTRY I LECTURE - CHEM 1123 - Fall 2019