Suzanne Farmer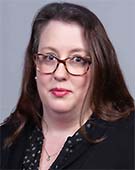 Dr Suzanne Farmer
Associate Professor
History
Office Location
Tahlequah
Woods House 3
(918) 444-4503
Bio
J. Suzanne Farmer is a native of Southeast Arkansas who joined the faculty at NSU in the fall of 2011. Dr. Farmer graduated
summa cum laude
with a B.A. in History and Political Science from the University of Arkansas, Monticello. She received her M.A. in History with an emphasis on early modern Europe from Western Illinois University and earned a Ph.D. in History with a concentration in British history from The University of Mississippi.
Education:
PhD, History Dissertation: Sir Dudley North: Merchant Politics in the First Age of Party Major Field: Early Modern Europe; Minor Fields: Latin America; Africa, THE UNIVERSITY OF MISSISSIPPI, Oxford, MS, 2011
MA, History Concentration: Early Modern Europe; Minor Field: U.S. History, WESTERN ILLINOIS UNIVERSITY, Macomb, IL, 2006
BA, History and Political Science, summa cum laude, UNIVERSITY OF ARKANSAS, MONTICELLO, Monticello, AR, 2004
Dr. Farmer's research examines the relationship between politics and the economy in late-seventeenth century England by exploring the political participation of wealthy merchants during the Restoration. She is currently working on a series of scholarly articles.
Early and Modern Western Civilization, Women's and Gender Studies, Renaissance-Reformation Era, Age of Absolute Kings, Tudor-Stuart Britain, Atlantic World, French Revolution and Napoleon, Modern Britain, Africa, and New Imperialism
Intellectual Content:
Ryot upon Ryot: Sedition during the London Shrieval Election of 1682, The London Journal, 43:1, 1-16. (Journal Article, Academic Journal), Published, 2018
Sir Dudley North In Loyal Principles Exceeding: A Political Merchant in the First Age of Party, International Social Science Review: Vol. 92: Iss. 2, Article 1 (Journal Article, Academic Journal), Published, 2017
Review of Tim Hitchcock, Robert Shoemaker, London Lives: Poverty, Crime and the Making of a Modern City, 1690-1800 for The English Historical Review, Vol. 132, Issue 555, pages 399-401. (Book Review), Published, 2017
Patterns of Social Relationships and Their Outcomes: The Case of Ireland (Manuscript), Discovery, In Preparation; Not Yet Submitted,
The King only is the Government: absolute monarchy in Charles IIs regime (Journal Article, Academic Journal), Submitted,
Presentations:
The King only is Government: absolute monarchy in Charles IIs regime - Southern Historical Section, Southern Historical Association, Little Rock, AR - - November 2015
A Matter of Right: Truthiness and the Parliamentary Investigative Committees of the Late Seventeenth Century - Western Conference on British Studies, Las Vegas, NV - - September 2012
Guiding Lights: Political Ideologies and Londons Merchants in the 1680 - British Scholar Annual Conference, Austin, TX - - March 2011
Loyalty Triumphant: Sir Dudley North, Ideology, and Politics in the 1680s - Pacific Coast Conference on British Studies, Seattle, WA - - March 2011
Revolution Triumphant: Political Discourse and the London Shrieval Election of 1682 - European History Section, Southern Historical Association, Baltimore, MD - - October 2011
Courses Taught:
INTRO WOMEN'S & GENDER STUDIES - WGS 2123 - Summer 2020
EARLY WESTERN CIVILIZATION - HIST 1113 - Summer 2020
MODERN WESTERN CIVILIZATION - HIST 1213 - Spring 2020
AFRICA IN THE MODERN WORLD - HIST 4653 - Spring 2020
STUDIES IN HISTORY - HIST 4023 - Summer 2019
AMERICAN HISTORY TO 1877 - HIST 1483 - Summer 2019
HISTORICAL INTERNSHIP - HIST 4993 - Summer 2019
THE AGE OF ABS KINGS,1600-1764 - HIST 3283 - Fall 2018
THE BRITISH ISLES: 1485-1715 - HIST 4353 - Fall 2017
THE FRENCH REVOLUTION/NAP ERA - HIST 4283 - Fall 2016