Suzanne Farmer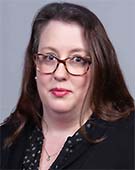 Dr Suzanne Farmer
Associate Professor
History
Office Location
Tahlequah
Woods House WH 3
(918) 444-4503
Bio
J. Suzanne Farmer is a native of Southeast Arkansas who joined the faculty at NSU in the fall of 2011. Dr. Farmer graduated
summa cum laude
with a B.A. in History and Political Science from the University of Arkansas, Monticello. She received her M.A. in History with an emphasis on early modern Europe from Western Illinois University and earned a Ph.D. in History with a concentration in British history from The University of Mississippi.
Education:
MA,History Concentration: Early Modern Europe; Minor Field: U.S. History,WESTERN ILLINOIS UNIVERSITY, Macomb, IL,,2006
BA,History and Political Science, summa cum laude,UNIVERSITY OF ARKANSAS, MONTICELLO, Monticello, AR,,2004
Dr. Farmer's research examines the relationship between politics and the economy in late-seventeenth century England by exploring the political participation of wealthy merchants during the Restoration. She is currently working on a series of scholarly articles.
Early and Modern Western Civilization, Women's and Gender Studies, Renaissance-Reformation Era, Age of Absolute Kings, Tudor-Stuart Britain, Atlantic World, French Revolution and Napoleon, Modern Britain, Africa, and New Imperialism
Intellectual Content:
Review of Tim Hitchcock, Robert Shoemaker, London Lives: Poverty, Crime and the Making of a Modern City, 1690-1800 for The English Historical Review, Vol. 132, Issue 555, pages 399-401. (Book Review), , Published, , 2017
Patterns of Social Relationships and Their Outcomes: The Case of Ireland (Manuscript), Discovery, In Preparation; Not Yet Submitted, ,
The King only is the Government: absolute monarchy in Charles IIs regime (Journal Article, Academic Journal), , Submitted, ,
Ryot upon Ryot: Sedition during the London Shrieval Election of 1682, The London Journal, 43:1, 1-16. (Journal Article, Academic Journal), , Published, , 2018
Sir Dudley North In Loyal Principles Exceeding: A Political Merchant in the First Age of Party, International Social Science Review: Vol. 92: Iss. 2, Article 1 (Journal Article, Academic Journal), , Published, , 2017
Presentations:
The King only is Government: absolute monarchy in Charles IIs regime - Southern Historical Section, Southern Historical Association, Little Rock, AR - - November 2015
A Matter of Right: Truthiness and the Parliamentary Investigative Committees of the Late Seventeenth Century - Western Conference on British Studies, Las Vegas, NV - - September 2012
Guiding Lights: Political Ideologies and Londons Merchants in the 1680 - British Scholar Annual Conference, Austin, TX - - March 2011
Loyalty Triumphant: Sir Dudley North, Ideology, and Politics in the 1680s - Pacific Coast Conference on British Studies, Seattle, WA - - March 2011
Revolution Triumphant: Political Discourse and the London Shrieval Election of 1682 - European History Section, Southern Historical Association, Baltimore, MD - - October 2011
Courses Taught:
INTRO WOMEN'S & GENDER STUDIES - WGS 2123 - Summer 2020
EARLY WESTERN CIVILIZATION - HIST 1113 - Summer 2020
MODERN WESTERN CIVILIZATION - HIST 1213 - Spring 2020
AFRICA IN THE MODERN WORLD - HIST 4653 - Spring 2020
STUDIES IN HISTORY - HIST 4023 - Summer 2019
AMERICAN HISTORY TO 1877 - HIST 1483 - Summer 2019
HISTORICAL INTERNSHIP - HIST 4993 - Summer 2019
THE AGE OF ABS KINGS,1600-1764 - HIST 3283 - Fall 2018
THE BRITISH ISLES: 1485-1715 - HIST 4353 - Fall 2017
THE FRENCH REVOLUTION/NAP ERA - HIST 4283 - Fall 2016