Sandra Edwards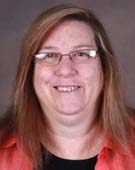 Dr Sandra Edwards
Professor/Dir Grad Business
Management Broken Arrow
Office Location
Broken Arrow
Broken Arrow Business & Technology 118
(918) 449-6542
Bio
Dr. Sandra Edwards joined Northeastern State University in 1999 as a Professor of Management, and has since served in a number of different capacities, most recently as the Director of Graduate Business Programs.
Education:
PhD, Business Administration, New Mexico State University, 2002
MBA, Central Missouri State University, 1988
BS, Business Administration, Emporia State University, 1983
I have done research in a wide variety; however, my interests are with corporate sustainability.
My field of teaching is quantitative methods and organizational behavior and leadership topics.
Intellectual Content:
Influence of previous company support on intentions to accept a future global assignment. (Journal Article, Academic Journal), Published, October (4th Quarter/Autumn), 2019
Presentations:
Give Them What They Want or Give Them What They Need?, - ACBSP Region 6 Meeting - Shawnee, Oklahoma - October 2019
Classroom Role Models: The Effects of Professor Gender on Non-traditional Student Success. - ACBSP National Meeting - Kansas City, MO - June 2018
Courses Taught:
ANALYSIS BUS DECISION MGMT - MBA 5123 - Spring 2023
INDEPENDENT STUDY BUS ADMIN - MBA 5643 - Spring 2023
BUSINESS DECISION ANALYSIS - MGMT 4103 - Spring 2023
BA TECHNIQUES - MGMT 5103 - Spring 2023
ANALYSIS BUS DECISION MGMT - MBA 5123 - Fall 2022
QUANT METHODS/DECISION THEORY - PMBA 5143 - Fall 2022
QUANT METHODS FOR BUS DEC - BADM 3963 - Fall 2022
BUSINESS DECISION ANALYSIS - MGMT 4103 - Fall 2022
BA TECHNIQUES - MGMT 5103 - Fall 2022
ANALYSIS BUS DECISION MGMT - MBA 5123 - Spring 2022
QUANT METHODS FOR BUS DEC - BADM 3963 - Spring 2022
MARKETING RESEARCH - MKT 4333 - Spring 2022
INDEPENDENT STUDY BUS ADMIN - MBA 5643 - Spring 2022
ANALYSIS BUS DECISION MGMT - MBA 5123 - Fall 2021
QUANT METHODS/DECISION THEORY - PMBA 5143 - Fall 2021
QUANT METHODS FOR BUS DEC - BADM 3963 - Spring 2021
ANALYSIS BUS DECISION MGMT - MBA 5123 - Fall 2020