Lisa Czlonka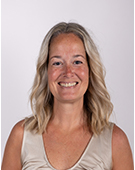 Lisa Czlonka
Office Location
Tahlequah
Business & Technology 210C
(918) 444-2940
Bio
Lisa Czlonka is an Instructor and Interim Department Chair in the Business Administration Department at Northeastern State University. Her research interests include management practices, business strategy and policy, as well as diversity management.
Czlonka has co-authored a book chapter and received a Faculty Research Council grant to study individual differences on the perception of the economic impact of immigrants.
Czlonka completed her MBA from Carnegie Mellon University with a concentration in Management & Strategy, Marketing, and Entrepreneurship, her MSW from University of Hawaii with a concentration in Children & Families, and a BA in Psychology & Theology from the University of Notre Dame.
Previous experience includes small business ownership, researcher, marketing manager, and program director.
Education:
MBA, CARNEGIE MELLON UNIVERSITY, TEPPER SCHOOL OF BUSINESS , 2009
OtherMSW, UNIVERSITY OF HAWAII AT MANOA, SCHOOL OF SOCIAL WORK , 2005
BA, UNIVERSITY OF NOTRE DAME, 2002
Acquired a Faculty Research Council Grant to investigate individual differences on the attitudes of the economic impact of immigrants. Resulted in new jobs for research assistants.
Principles of Management; Principles of Marketing; Human Resource Management; Management & Team Skills; Organizational Behavior; Quantitative Methods; Principles of Operations Management
Intellectual Content:
Individual Differences in Perception of the Economic Impact of Immigrants (Working Paper), Discovery, In Preparation; Not Yet Submitted,
Games for peace: Empirical investigations with PeaceMaker (Book, Chapter in Non-Scholarly Book-New), Discovery, Published, 2010
Courses Taught:
ORGANIZATIONAL BEHAVIOR - MGMT 3253 - Fall 2016