Pamela Christol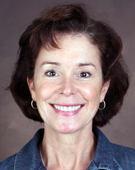 Dr Pamela Christol
Professor
General Physical Science BA
Office Location
Broken Arrow
Broken Arrow Science & Health 206
(918) 449-6539
Additional Contact Methods
Alternate Phone: (918) 449-6474
Bio
Dr. Pamela Christol has held higher education positions for over 22 years, beginning as a teaching/research graduate student at Oklahoma State University, working as an assistant professor/program coordinator at the University of Houston/Clear Lake, and serving as a professor and chair of two science education programs at NSU. Dr. Christol has also worked as an aerospace education specialist for NASAs Aerospace Education Services program, traveling the country providing educational outreach opportunities and presenting at a variety of science, technology, and mathematics conferences.
Education:
PhD, Environmental Science, Oklahoma State University, 2002
MS, Curriculum and Instruction, University of Oklahoma, 1993
BS, Elementary Education, University of Oklahoma, 1987
Preservice teachers' constructs of self-efficacy and outcome expectancy with regard to science teaching and learning.
Changing perceptions of preservice teachers' attitudes towards teaching science content.
Evaluating misconceptions in science and strategies for changing them
I am interested in teaching science content/pedagogy to undergraduates and graduate students, particularly in the areas of environmental and Earth sciences. By engaging students emotionally, linking content with their personal daily interactions with the natural world, it becomes meaningful.


Presentations:
Get Green for Blue: Reconnecting Students to the Outdoors - Rocky Mountain Educational Research Association 50th Annual Conference - Broken Arrow, OK - October 2018
Immersive and Innovative Mentoring for Novice Teachers - Oklahoma Science Teachers Association Conference - Tulsa, OK - June 2019
Impacts of an Outdoor Camp on High Schoolers' Perceptions of STEM Careers - National Science Teaching Association - St. Louis, MO - March 2019
Mentoring Novice Teachers in STEM - National Science Teaching Association - St. Louis, MO - March 2019
Courses Taught:
TRENDS/ISSUES IN SCIENCE EDUC - SCI 5443 - Fall 2020
EARTH SCIENCE - SCI 4124 - Fall 2020
INQUIRY-BASED STEM EDUCATION - SCI 5513 - Spring 2020
EARTH SCIENCE - SCI 5123 - Spring 2020
METH OF TEACHING SEC SCIENCE - SCI 4513 - Fall 2019
CAPSTONE I - SCI 5983 - Spring 2019
CAPSTONE II - SCI 5993 - Spring 2019
TRENDS/ISSUES IN SCIENCE EDUC - SCI 5443 - Fall 2018
METH OF TEACHING SEC SCIENCE - SCI 4513 - Fall 2018
Trends and Issues in Science Education - SCI 5443 - Fall 2018
INQUIRY IN SCIENCE EDUCATION - SCI 5513 - Spring 2018
EARTH SCIENCE - SCI 4124 - Spring 2018