Steven Byers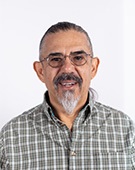 Dr Steven Byers
ASSOCIATE PROFESSOR
Psychology
Office Location
Tahlequah
Haskell Hall 213
(918) 444-3014
Bio
An enrolled member of the Cherokee Nation of Oklahoma, Dr. Steven Byers received his B.S. as a dual major in Philosophy and Psychology at the University of Tulsa, Tulsa, Oklahoma. He then attended the University of Michigan, Ann Arbor, Michigan where he received his M.A. in Psychology with a concentration in Personality Assessment & Development. He completed a second masters degree and his Ph.D. in Clinical Psychology at the University of Colorado at Boulder, Boulder, Colorado. Dr. Byers has worked in various academic settings as an instructor, faculty member and researcher. His areas of specialization include multicultural mental health, education and empowerment, and cultural resiliency. Dr. Byers is an associate professor at Northeastern State University, primarily on the Broken Arrow Campus.
Education:
PhD, Clinical Psychology, University of Colorado at Boulder, 1997
MA, Clinical Psychology, University of Colorado at Boulder, 1992
MA, Personality Psychology, University of Michigan, 1988
BS, Philosophy and Psychology, University of Tulsa, 1984
Dr. Byers emphasizes the importance of divestment and community research within diverse context in psychological research. His research focuses on historical trauma, mindfulness coping, narratives of marginalized persons and reconceptualizing dominant culture models of mental health and wellness.
Dr. Byers teaches the following courses: Physiological Psychology, Multicultural & Diversity Psychology, Counseling Ethics and Professionalism, Psychopharmacology and Dual Diagnoses. He also assists in training professional counselors in the graduate program.
Intellectual Content:
American Indian/Alaska Native Students use of a university student support office (Journal Article, Academic Journal), Application, Published, July (3rd Quarter/Summer), 2006
Cultural displacement in American Indian student groups: a proposed model of attrition (Journal Article, Academic Journal), Discovery, In Preparation; Not Yet Submitted,
Narrative frames of the north Tulsa race massacre (Journal Article, Academic Journal), Integration, In Preparation; Not Yet Submitted,
Presentations:
African Americans Views of the North Tulsa Race Massacre - 2019 Zarrow Mental Health Symposium: Resilience, Recovery, Rethink Mental Health - Tulsa, OK - October 2019
American Indians in Higher Education: Colonial Conceptions, Wayfinding or the Warrior Path - Symposium_2020 American Psychological Associatin_Division 45 - Washington, D. C. - Virtual Conference - August 2020
Diverse Student Success - NSU Community and Collaboration Day - NSU BA Campus - September 2012
Historical Trauma and the 1921 North Tulsa Race Massacre - 41st Annual Meeting of the Society for Descriptive Psychology - Golden, CO - September 2019
Resilience: Marginalized Communities and Historical Trauma - 2019 Zarrow Mental Health Symposium: Resilence, Recovery, Rethink Metnal Health - Tulsa, OK - October 2019
Courses Taught:
DIRECTED RESEARCH - PSYC 4473 - Fall 2016