Christopher Burba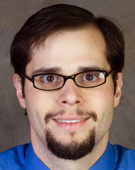 Dr Christopher Burba
Professor
Chemistry
Professor
Chemistry
Office Location
Tahlequah
Science Building 238
(918) 444-5777
Bio
Dr. Burba is a Professor of Chemistry in the Department of Natural Sciences. He earned a B.S. Chemistry degree from Northeastern State University in 2000. In 2006, he completed degree requirements for a Ph.D. Chemistry degree from the University of Oklahoma. His personal hobbies include traveling and fencing.
Education:
PhD, Physical Chemistry, University of Oklahoma, 2006
BS, Chemistry, Northeastern State University, Summa cum laude, 2000
Dr. Burba maintains an active research program for undergraduate and graduate students, with research topics in ionic liquids, polymer electrolytes, confined systems, and stable isotope studies of bat migration.
Dr. Burba's teaching interests include general chemistry, physical chemistry, spectroscopy, and materials science.
Intellectual Content:
Quantitative Investigation of Ion Clusters in a Double Salt Ionic Liquid by Both Vibrational Spectroscopy and Molecular Dynamics Simulation (Journal Article, Professional Journal), Discovery, Published, April (2nd Quarter/Spring), 2020
Dipolar Coupling and Molecular Vibrations in Ionic Liquids (Journal Article, Professional Journal), Discovery, Published, 2019
The Nature of Cation-Anion Interactions in Magnetic Ionic Liquids as Revealed by High Pressure Fourier Transform Infrared (FT-IR) Spectroscopy (Journal Article, Professional Journal), Discovery, Published, May, 2019
Nanoconfinement-Induced Phase Segregation of Binary Liquids within a Chemically Inert Matrix (Journal Article, Professional Journal), Discovery, Published, March, 2018
Temperature- and Pressure-Dependent Infrared Spectroscopy of 1-Butyl-3-methylimidazolium Trifluoromethanesulfonate: A Dipolar Coupling Theory Analysis (Journal Article, Professional Journal), Discovery, Published, December, 2017
Presentations:
Implications of Liquid Structure on the Vibrational Spectra of Ionic Liquids - 255th American Chemical Society National Meeting - New Orleans, LA - March 2018
Ionic Speciation in Ionic Liquids Containing Inorganic Salts - 8th Australasian Symposium on Ionic Liquids - Deakin University, Melbourne, Australia - May 2018
My Personal Lotka-Volterra Experiment: How a Chemist at NSU Started Studying Bats - NSU HawkTalk - Tahlequah, OK - October 2020
Courses Taught:
GENERAL CHEMISTRY II LAB - CHEM 1231 - Fall 2020
GENERAL CHEMISTRY II LECTURE - CHEM 1223 - Fall 2020
PHYSICAL CHEMISTRY I LAB - CHEM 4524 - Fall 2020
PHYSICAL CHEMISTRY I - CHEM 4524 - Fall 2020