Jody Buckholtz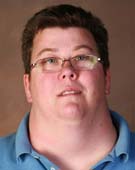 Dr Jody Buckholtz
Office Location
Tahlequah
Science Building 236
(918) 444-3839
Bio
Dr. Buckholtz joined Northeastern State University in 2002 as an Instructor, and has since gained tenure and been promoted to full Professor. They are an Analytical chemist and a hard-core softball fan.
Education:
PhD, University of Arkansas, 2007
MS, Analytical chemistry, University of Arkansas, 1999
BS, Chemistry, University of Central Arkansas, 1994
Statistical evaluation of large data sets; Water quality testing; fresh water science
I usually teach Quantitative Analysis, Instrumental Analysis, General Chemistry 2 lecture and lab. I have also taught General Chemistry 1 lecture and lab, Environmental chemistry, Special topics in Natural Science, and Electrochemistry.
Presentations:
Detection of Penning Ionization of Sputtered Copper by Metastable Argon using Time-of-Flight Mass Spectrometry - NSU Undergraduate Research Day - - April 2018
Scanning Electrochemical Microscopy Investigation of Catalytic Iron oxide particles in Nafion film for Oxygen Reduction Reaction on Gold Electrodes - NSU Undergraduate Research Day - NSU - April 2018
Strategies for Improving Recruitment & Success for Native American and Other Socioeconomically Challenged Undergraduate Students for STEM Graduate Programs. - Analytical Chemistry Seminar Series - Fayetteville, AR - January 2020
Water Quality Monitoring for Town Branch Creek in Tahlequah OK. - NSU Undergraduate Research Day - - April 2019
Courses Taught:
QUANTITATIVE ANALYSIS - CHEM 3315 - Fall 2020
QUANTITATIVE ANALYSIS LAB - CHEM 3315 - Fall 2020
GENERAL CHEMISTRY II LECTURE - CHEM 1223 - Fall 2020
TOPICS IN NATURAL SCIENCES - SCI 5803 - Spring 2020
GENERAL CHEMISTRY I LECTURE - CHEM 1123 - Spring 2020
RESEARCH IN CHEMISTRY I - CHEM 4412 - Spring 2020
GENERAL CHEMISTRY II LECTURE - CHEM 1223 - Spring 2020
GENERAL CHEMISTRY II LAB - CHEM 1231 - Spring 2020
QUANTITATIVE ANALYSIS - CHEM 3315 - Fall 2019
QUANTITATIVE ANALYSIS LAB - CHEM 3315 - Fall 2019
INSTRUMENTAL ANALYSIS - CHEM 4714 - Spring 2019
INSTRUMENTAL ANALYSIS LAB - CHEM 4714 - Spring 2019
THESIS - SCI 5901 - Fall 2018
RESEARCH IN CHEMISTRY I - CHEM 4412 - Spring 2018