Alesha Baker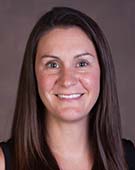 Alesha Baker
Associate Professor
Educational Leadership BA
Office Location
Broken Arrow
Broken Arrow Education 160
(918) 449-6451
Bio
Dr. Alesha Baker is an Associate Professor in the Educational Leadership Department and the Chair for the Library Media and Information Technology program at NSU. She earned her Ph.D. in Educational Technology from OSU.
Dr. Baker has 13 years of experience in PK-12 with the last three of those years serving as an elementary school librarian.
Dr. Baker has published multiple peer-reviewed book chapters and research articles on topics related to technology integration in the classroom and school library, the school librarians roles in resource curation, open educational resource use in higher education and global PK-12 settings, social media use for teacher professional development, and teacher professional development effectiveness. She has presented at numerous local, state, national, and international conferences sharing her research and findings with other educators.
Education:
OtherCertificate, Graduate Online Teaching Certificate, Oklahoma State University, 2017
PhD, Education; Educational Technology, Oklahoma State University, 2017
MS, Library Media and Information technology, Northeastern State University, Summa cum laude, 2011
BS, Special Education, Northeastern State University, 1999
open educational resources and teacher professional development
Library Science and Educational Technology
Intellectual Content:
Empowering Learners with Mobile Open-Access Learning Initiatives (Book, Chapter in Scholarly Book-New), Application, Published, January (1st Quarter/Winter), 2017
Impact of professional development on technology innovation implementation by Ugandan teachers: A mixed methods study (Journal Article, Academic Journal), Discovery, Published, October (4th Quarter/Autumn), 2017
Logistical Issues with OER Initiative in a K-12 Environment (Book, Chapter in Scholarly Book-New), Application, Published, January (1st Quarter/Winter), 2017
Open educational resources in teacher preparation programs: Teacher candidates' perceptions of open textbooks (Journal Article, Academic Journal), Teaching & Learning, Published, January (1st Quarter/Winter), 2019
Secondary Students' Perceptions of Open Science Textbooks (Journal Article, Academic Journal), Discovery, Published, January (1st Quarter/Winter), 2018
Student-Driven OER: Championing the Student Voice in Campus-Wide Effort (Book, Chapter in Scholarly Book-New), Application, Published, 2018
The School Librarians' Role in the Adoption of Open Educational Resources (Journal Article, Academic Journal), Discovery, Published, January (1st Quarter/Winter), 2019
Accommodations in a University Model School: An examination of policies and practices addressing student needs for families considering a blended educational setting. (Journal Article, Professional Journal), Teaching & Learning, Published, March, 2020
Presentations:
Benefits and challenges of implementing open textbooks in a K-12 school - Open Education Conference - Richmond, VA - November 2016
Building a Culture for Open Textbooks at Oklahoma State University - Open Education Conference - Richmond, VA - November 2016
Change Theory in Practice: A Study of the Nyenga Christian School - Rocky Mountain Educational Research Association - Northeastern State University, Broken Arrow, OK - October 2018
Impact of Professional Development on Technology Innovation by Ugandan Teachers: A Mixed Methods Study - Rocky Mountain Educational Research Association Conference - Broken Arrow, OK - October 2016
MainSTREAMing in the Library: Connecting Science and Reading with LittleBits Inventions ___________________________________________ _____________________________________________ - American Library Association Annual Conference - Chicago - June 2017
Makerspaces and the National School Library Standards - OTA/ Encyclo-Media Annual Conference - Oklahoma City, OK - November 2018
Open Educational Resources and the School Librarian's Role. - Oklahoma Technology Association Conference - Oklahoma City, OK - October 2017
Open educational resources: More than just the free option - HawkTalk - NSU Broken Arrow and virtually to Tahlequah and Muskogee - February 2020
The school librarians role in the adoption of open textbooks. - Open Education Conference - Anaheim, CA - October 2017
Twitter Chats and the Evolution of Teacher Professional Development - Society of Information Technology and Teacher Education - Savannah, GA - March 2016
Courses Taught:
SCHOOL LIB LEADER & ADVOCACY - LIBM 5523 - Summer 2020
SCHOOL LIB LEADER & ADVOCACY - LIBM 5523 - Summer 2020
SCHOOL LIBRARY ADMINISTRATION - LIBM 5123 - Spring 2020
ADV MATERIALS FOR CHILDREN - LIBM 5023 - Fall 2019
ACQ & ORG OF LIBRARY MATERIALS - LIBM 5413 - Summer 2019
ACQ & ORG OF LIBRARY MATERIALS - LIBM 5413 - Summer 2019
EDUCATIONAL RESEARCH - EDUC 5103 - Spring 2019
ADV ADMN FOR LIBR MEDIA CENTER - LIBM 5123 - Fall 2018
INFO & RESOURCES & SERVICES - LIBM 5513 - Fall 2018
EDUCATIONAL RESEARCH - EDUC 5103 - Fall 2018
ADV MATERIALS FOR YOUNG ADULTS - LIBM 5313 - Fall 2018
INFO & RESOURCES & SERVICES - LIBM 5513 - Summer 2018