Upgrade Leoser Complex
NSU investing more than $5 million to upgrade Leoser Complex heating and cooling systems
Officials using federal funds to cover cost; other campus facilities identified for future upgrades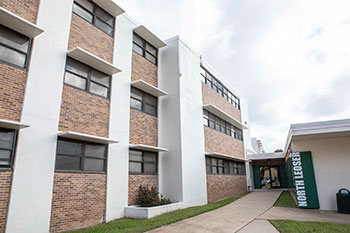 TAHLEQUAH — Northeastern State University officials are investing more than $5 million in federal funds to upgrade heating and cooling systems in the Leoser Complex.
NSU officials plan to use $5.5 million in Higher Education Emergency Relief Fund (HEERF) money to improve HVAC systems in three Tahlequah campus buildings. The lion's share of that money — around $5.2 million — will go toward improving the heating and cooling in Leoser Complex. Built in the 1960s, the residential complex houses primarily first-year students as well as administrative offices for Housing & Residence Life, The Northeastern student newspaper and others. The remaining funds will be used on making improvements in the Fine Arts Annex and Bagley Hall.
Harold McMillen, NSU interim director of the physical plant, said buildings were evaluated based on their existing condition, occupant safety and impact to students. McMillen said the primary contractor working to upgrade the system at Leoser is Williams Contracting but NSU officials also plan to hire in for other phases of the project.
The tentative plan is for the recently mobilized contractors to work on the south wings of the building first before vacating the northern wings for work over the summer.
McMillen said the complex currently uses an existing two-pipe HVAC system to heat and cool the building. Contractors will be replacing all the steel pipes, which were determined to be at or beyond their average lifespan greatly hampering their efficiency and leading to additional maintenance and upkeep.
McMillen said the existing two-pipe HVAC system will be replaced with either a Nupi or Aquatherm piping system. He said unlike steel this type of piping is expected to last a lifetime.
"Piping is an expensive product but it is a buy once, cry once kind of product," McMillen said. "We pay a lot for it now, and we pay a premium to install it but it saves us money on maintenance, repairs and just efficiency in general."
Along with replacing the piping, McMillen said other work completed includes upgrading the insulation, sensors and valves serving the system. He added when there are major adjustments to an HVAC system, as with this project, they also try to update the control system, if applicable.
In addition to replacing the existing piping at Leoser Complex, McMillen said crews will also be adding four dedicated outdoor air systems (DOAS) to service the various wings of the complex. The addition of a DOAS unit is expected to bring in clean, fresh air that has been filtered, conditioned and dehumidified to improve air quality and circulation. McMillen added such systems help with the longevity of the building by mitigating humidity so there is no moisture build up inside walls.
While the Leoser Complex is expected to be the largest portion of HVAC upgrades planned in the near future, NSU officials are also making plans to improve systems in the Fine Arts Annex and Bagley Hall. McMillen said currently the Fine Arts Annex is serviced by both two-pipe and four-pipe HVAC systems. Crews plan to make upgrades so the entire building uses a four-pipe HVAC system. McMillen said this should improve efficiency and help with maintenance.
McMillen said work on Bagley Hall is in the planning stages. According to McMillen, in order to meet HEERF requirements all construction needs to be completed by summer 2023
"Our needs change, our expectations change, our standards change and we have to modify and improve with them," McMillen said. "We're trying to make the adjustments we can to fit the modern needs of these buildings."