Roy Boney Jr. 2022 Sequoyah Fellow
Northeastern State University names Roy Boney Jr. 2022 Sequoyah Fellow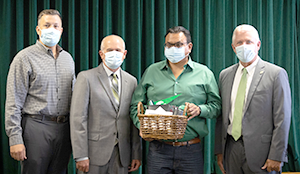 Award-winning artist and manager of the Cherokee Language Program at Cherokee Nation, Roy Boney Jr. has been selected as Northeastern State University's 2022 Sequoyah Fellow
TAHLEQUAH, Okla. — Award-winning artist and manager of the Cherokee Language Program at Cherokee Nation Roy Boney Jr. has been selected as Northeastern State University's 2022 Sequoyah Fellow.
"These are very big shoes to fill and I'm very honored and privileged I have the opportunity," Boney Jr. said about becoming a Sequoyah Fellow.
Boney Jr. said since he was a kid he was a fan of Sequoyah and his legacy. He added it is humbling to be named as a recipient of a fellowship bearing his name.
The Sequoyah Fellow program provides an opportunity for NSU and the College of Liberal Arts to recognize an outstanding scholar in the field of Native American studies. During their fellowship year, Sequoyah Fellows are given the opportunity to share their expertise with the NSU community.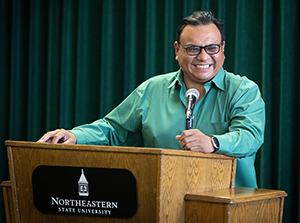 On Sept. 8 Roy Boney Jr. was recognized at a reception announcing his Sequoyah Fellowship. Pictured above and from the left are: Cherokee Nation Chief of Staff Todd Enlow, Dean of the College of Liberal Arts Dr. Mike Chanslor, Boney Jr. and NSU President Steve Turner.
Boney Jr. is the seventh Sequoyah Fellow since the program was created in 2009. Past Sequoyah Fellows include former Principal Chief of the Cherokee Nation Wilma Mankiller, Cherokee Nation Senior Policy Advisor Dr. Neil Morton and most recently, the first-ever Cherokee Nation Delegate to the U.S. Congress, Kim Teehee.
"This is a gentleman that has immersed a lot of himself into teaching, and to protecting the Cherokee language. And as Oklahoma's immersive-learning institution, that's exactly what we want," Turner said during a reception on Wednesday. "We want folks that are committed to what they're doing, and through whatever craft, whatever skill that they bring we want them to make our institution a better place."
Cherokee Nation Chief of Staff Todd Enlow said that it was fitting for Boney Jr. to be named the 2022 Sequoyah Fellow, as they commemorate the 200th anniversary of the Cherokee syllabary.
Enlow said that Boney Jr. was the driving force for the Cherokee syllabary to be added as a language on Apple devices so that students could continue practicing the language outside of the classroom.
"The fact that we have somebody that is so steadfast to make sure our language not only survives, but is actually for generations—I think it's very fitting that Roy serves as the Fellow," Enlow said.
Boney Jr.'s art features the interaction of Cherokee culture with technology. He is particularly inspired by Sequoyah, the creator of the Cherokee syllabary, and uses Sequoyah's image for the basis of many of his pieces.
"When you think of scholarship and scholars, Sequoyah is the ultimate scholar for the Cherokee people," Boney Jr. said.
Some of Boney Jr's other contributions are included in the "Tales of the Mighty Code Talkers," a graphic novel in which he was featured as an artist, writer and cover artist. The graphic novel won the American Indian Library Association's Youth Literature Award in 2018 and also served as inspiration for the Cherokee code talker featured in NSU's new Veterans Monument & Plaza that will be unveiled on Nov. 11.
Boney Jr. 's art and research have also been featured in the Gilcrease Museum and in articles in the Oxford University Press, the University of Oklahoma Press, American Indian Culture and Research Journal, Oklahoma Today, Indian Country Today, Native Peoples and First American Art Magazine.
Boney Jr. comes from an artistic and creative academic background. He received his Bachelor of Fine Arts in graphic design from Oklahoma State University and his Master of Arts in studio art from the University of Arkansas at Little Rock where he was a research fellow at the Sequoyah Research Center.
Boney Jr. is also the liaison representative for Cherokee Nation to the Unicode Consortium, president of the Five Civilized Tribes Intertribal Council Language Committee and former president of the Southeastern Indian Artists Association.