Proposed NSUOCO facility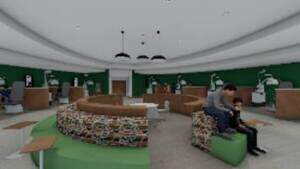 Pictured is a rendering of exam lanes at the proposed NSUOCO facility in Tahlequah. The proposal seeks to expand the number of exam lanes currently in use to see more patients and train more students.
(Tahlequah, Oklahoma) — Northeastern State University's plans for a new Oklahoma College of Optometry building proposes an expansion of the number of exam rooms, classrooms, labs and the addition of a refractive surgery laser as officials seek to enhance the nation-leading program's educational and clinical capabilities.
The proposed design and floor plan for the new facility — estimated to cost around $33 million to build and equip — envisions the addition of various amenities designed to expand and enhance patient care and student instruction, especially when it comes to immersive learning and continuing education. NSU
officials launched the "Building Excellence: A Vision for the Future" campaign in February
as part of its effort to raise monetary support for the project.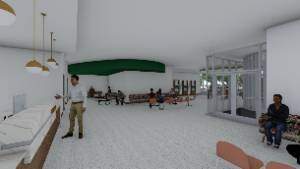 Pictured is a rendering of a patient waiting area at the proposed NSUOCO facility in Tahlequah. Officials propose offering general and specialty eye care services to the public at the new facility.
"Having a bigger, more modern space will allow us to more effectively and efficiently administer clinical care," Associate Dean of the Oklahoma College of Optometry Dr. Nate Lighthizer said. "And while we are administering clinical care, we're teaching optometry students at the same time."
According to the latest proposed design, the 101,500-square-foot complex will feature an academic and clinical wing allowing for increased patient care and the incorporation of new services such as refractive surgery, a procedure that uses a laser to correct vision problems such as myopia and astigmatism, with the addition of a new refractive surgery laser.
The proposed clinical wing will also feature 24 exam rooms, multiple clinical conference rooms, an optical shop and a variety of faculty and staff offices.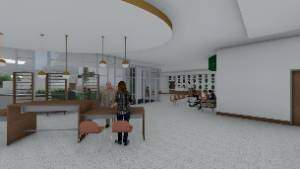 Pictured is a rendering of an optic shop at the proposed NSUOCO facility in Tahlequah.
Visitors to the new clinic can expect generalized eye care such as checkups and purchasing glasses and contact lenses. It will also be a place for specialty eye care such as low vision services, vision therapy, infant eye care and the treatment and care of various eye diseases such as dry eye, macular degeneration, glaucoma and retinal disease, among others.
The services planned for the new facility will combine with the existing network of primary care services the college offers throughout Green Country thanks to a decades-long partnership with the Cherokee Nation. This includes a network of clinics throughout a 14-county area focused on primary and specialty eye care in northeastern Oklahoma that serve more than 40,000 patients annually.
Lighthizer said the addition of the new facility, based on initial proposals, would increase clinical exam lanes by 20%, which is likely to increase the number of patients that can be seen.
Expanded immersive-learning opportunities
The optometry program is a four-year doctoral degree offering at NSU. However, due to current space limitations, the college has only two classrooms.
According to Lighthizer, this creates challenges when it comes to efficient classroom instruction. The latest proposal suggests a new facility with three classrooms, four seminar rooms and a computer lab to enhance the teaching of optometry students in its academic wing.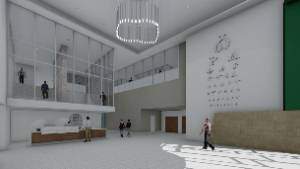 Pictured is a rendering of the interior of the proposed NSUOCO facility in Tahlequah.
But along with classroom instruction, the new facility also seeks to expand hands-on experiences for its students. Officials are proposing 10 mock exam lanes, two national board mock exam lane rooms and four labs.
The addition of two national board mock exam lanes is particularly significant as they would be identical to the exam rooms optometry students will be tested on in order to become full-fledged optometrists, Lighthizer said. Around a decade ago the National Board of Examiners in Optometry (NBEO) required all optometry students to report to its facility in Charlotte, North Carolina to complete the clinical board examinations necessary for optometric licensure in the United States.
Taking a major exam such as the one being administered by the National Board of Examiners in Optometry can already be stressful and anxiety-inducing, Lighthizer said, and on top of that it is at an unfamiliar location. To better prepare students for the rigors of such an exam, optometry schools nationwide have begun to replicate the NBEO exam rooms locally and the Oklahoma College of Optometry plans to do the same.
The facility will also enhance the college's capability to train existing optometrists on a variety of office-based procedures and techniques.
Having a large auditorium at the new facility will allow the college to welcome more doctors at once. The college has an extensive continuing education program and eye doctors from across the nation turn to NSU for training in the latest ophthalmic procedures and other advanced techniques.
According to Lighthizer, a new facility could expand the number of optometrists that can pursue this training at one time. He anticipates working with the Oklahoma Association of Optometric Physicians — a key partner with the college — on having conferences in Tahlequah potentially attracting 200 to 250 doctors from across the country. He said capacity right now is at around 80 to 100 doctors.
"Our mission is to train first class optometry students to become first-class optometric physicians that provide the best care for the citizens of Oklahoma and the surrounding states," Lighthizer said. "So, from both the classroom and clinical perspective, this new facility will greatly help achieve our goals of increasing services available to patients and providing the best classroom and clinical education for our students."
NSU is highlighting different aspects of the Oklahoma College of Optometry program as part of its "Building Excellence: A Vision for the Future" campaign for a new Oklahoma College of Optometry facility. The estimated price tag is around $33 million. To learn more about the campaign visit the NSU Alumni Association's website for updates.