NSU receives $7,000
NSU receives $7,000 from TTCU Federal Credit Union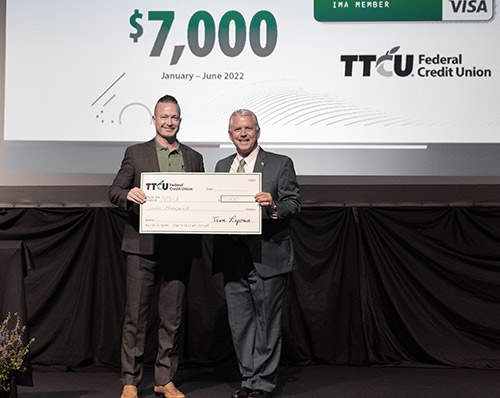 TTCU Vice President of Branch Operations Jacob Barnett (left) presents a check for $7,000 to NSU President Steve Turner (right) on Aug. 9.
TAHLEQUAH — Northeastern State University received a $7,000 donation from TTCU Federal Credit Union on Tuesday to continue supporting the institution's top priorities.

The funds are from the credit union's TTCU School Pride Program which was established as a way to give back to local schools. NSU has been part of the program since 2007 and has since received $138,000.

Anyone with a TTCU account can request an NSU branded debit card and every time they use it, a percentage is donated to the school at the beginning of each fall and spring semester. The most recent donation to NSU is for the spring 2022 semester.

NSU Foundation Executive Director Peggy Glenn said funds from the TTCU School Pride Program are being used to support the President's Ambassadors Network Program. The program is a competitive process for professional development opportunities for NSU faculty and staff including training on behavior intervention and threat assessment, multi-sensory education, forest carbon management techniques and stream survey skills.

She added it also supports certifications for using technology in education and for career development training and an immersive space on campus for American Sign Language.

To apply for a TTCU school pride debit card or learn more about the program, visit www.ttcu.com/checking-savings/debit-cards#tab2.