Northeastern State University commencement details announced
NSU Commencement Details Announced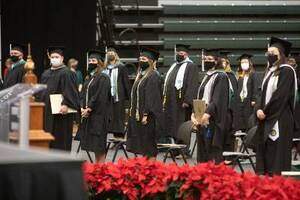 The 2021 Spring-Summer Commencement marks the second in-person graduation event and the first with limited guests since the pandemic hit last year. Here, Northeastern State University graduates participate in a fall 2020 commencement ceremony while adhering to the Centers for Disease Control and Prevention guidelines. The university held five commencement ceremonies in December 2020 to honor the students' achievements. For safety, no guests were allowed at the fall ceremonies but they were live-streamed so family and friends can still be involved. Attachments area
(Tahlequah, Oklahoma) — Northeastern State University will celebrate the hard work of more than 1,200 graduates at commencement ceremonies planned for this May.
Tahlequah and Muskogee graduates will be recognized at the NSU Event Center on May 7 and 8. Broken Arrow graduates will be celebrated at the Mabee Center on May 10.
Commencement ceremonies will be conducted in person, with limited attendance. Each graduating student may have two guests attend their commencement ceremony. Limiting the guests to two per graduate will provide for adequate space to ensure social distancing.
Among other safety protocols in place during the ceremonies, the facilities will be cleaned and sanitized between ceremonies to help protect our guests and the NSU family. All ceremonies will be held indoors and masks are required.
Graduating students will need to order their tickets in advance by preregistering their invited guests. Details outlining the preregistration process will be released on the NSU Commencement website by April 15.
Ceremonies will also be live streamed to accommodate family and friends of graduates who are unable to attend. Ceremony dates and times are as follows:
Tahlequah and Muskogee students
Friday, May 7
3 p.m. – College of Education
7 p.m. – Graduate College and Oklahoma College of Optometry
Saturday, May 8
9 a.m. – College of Business & Technology
1 p.m. – College of Liberal Arts
5 p.m. – Gregg Wadley College of Science & Health Professions
Broken Arrow students
Monday, May 10
6 p.m. — Broken Arrow ceremony at the Mabee Center, all colleges
For more information about the upcoming commencement ceremonies visit www.nsuok.edu/Commencement.