Military alumni to speak at NSU
Military alumni to speak at NSU spring 2021 commencement ceremonies
(Tahlequah, Oklahoma) — Northeastern State University will welcome back alumni Col. Lance Turlington and Brig. Gen. Jon Harrison to address graduates and guests at NSU's spring 2021 commencement ceremonies.
Turlington will speak on Saturday, May 8 at 1 p.m. at the College of Liberal Arts ceremony, 5 p.m. at the Gregg Wadley College of Science & Health Professions ceremony and on Monday, May 10 at 6 p.m. at the commencement for all NSU-Broken Arrow colleges.
Harrison will speak on Friday, May 7 at 3 p.m. at the College of Education ceremony, 7 p.m. at the graduate and College of Optometry ceremony and again on Saturday, May 8 at 9 a.m. at the College of Business & Technology ceremony.
Both Turlington and Harrison have served in the United States Army.
Turlington graduated from NSU in 1995 with bachelor's degree in social studies education before going on to serve overseas. He has received multiple honors including two Bronze Stars from the U.S. Department of Defense.
Harrison received a bachelor's degree in accounting from NSU in 1988 and was heavily involved in ROTC which began his Army career. He also went on to serve overseas and has been honored with a Legion of Merit award, among numerous other recognitions.
NSU has a long-standing history of supporting military communities and continues to build upon this value today. The university was named a 2021-2022 military-friendly school because of its services and opportunities for veterans and military students.
On November 11, 2021 NSU will unveil a monument honoring NSU veterans from all branches of the U.S. Armed Forces at the Veterans Monument Plaza. Military loved ones and community members can contribute to the monument by purchasing bricks and pavers that will be used in the Veterans Plaza.
For more information about sponsoring the monument, visit www.nsugiving.com/veterans. For information on commencement ceremonies and guidelines, visit www.nsuok.edu/commencement.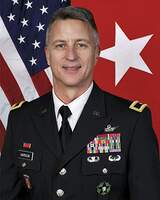 Brig. Gen. Jon Harrison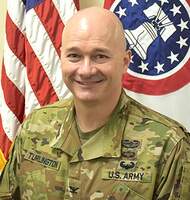 Col. Lance Turlington