First Cherokee Nation delegate-designate
NSU 2021 Sequoyah Fellow hopeful for the future, encourages community engagement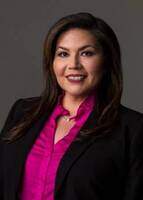 The first Cherokee Nation delegate-designate to Congress Kim Teehee believes the country is on the precipice of real meaningful change regarding federal Indian policy.
Built on the foundation laid by others in the past, including her mentor the late principal chief of the Cherokee Nation Wilma Mankiller, Teehee said there are many Native Americans positioned to ensure tribal communities' voices are heard at the highest level of the U.S. government.
"This is the time for greater engagement," Teehee told the crowd virtually attending the 2021 Sequoyah Fellowship Lecture on Monday. "It is imperative that we engage with the agencies and that we come to the table with recommendations. The more we can influence policy outcomes, the better in the long run our reservations will be, and the better we are culturally, economically and politically."
Teehee, NSU's sixth Sequoyah Fellow , director of government relations for Cherokee Nation and senior vice president of government relations for Cherokee Nation Businesses, said President Joe Biden's administration is committed to building on the Native American accomplishments of former President Barack Obama's administration such as the appointment of the first Native American woman federal judge and annual White House tribal nations summits.
She added building on the past, the current administration has nominated former Rep. Deb Haaland (D-N.M.) to serve as the first Native American Cabinet secretary and head of the Department of the Interior. Teehee said the full U.S. Senate is slated to consider her nomination soon.
"This appointment is especially profound when we consider the historic indignities that Native people have suffered at the hands of the United States, as the Secretary of the Interior, was often responsible for executing devastating policies designed to terminate our political existence and exterminate Native people," Teehee said.
Teehee said current federal action that could greatly impact tribal communities is the passage of the America Rescue Plan Act of 2021, a $1.9 trillion economic stimulus package proposed by the current administration circulating through the U.S. House and Senate.
"This rescue package is a big deal for tribes across the country as our communities have been disproportionately impacted by COVID due to chronic illness and structural challenges on our reservations," Teehee said.
She added unlike state and local governments, tribes do not have the similar tax base to help supplement services and programs. She said tribes rely heavily on the revenue generated from businesses to overcome funding shortfalls so when businesses shutter it significantly impacts them.
Along with more commonly known provisions such as an additional $1,400 direct stimulus payment to Americans and an extension of the current federal boost to unemployment benefits, Teehee said it includes $31 billion in direct assistance to tribal governments. This includes:
$20 billon for COVID-19 relief
$6 billion for the Indian Health Service
$1.1 billion for Indian Education
$1.2 billion for tribal housing programs
$900 million for the Bureau of Indian Affairs, which includes housing, public safety, social services and child services
Teehee said there is also additional funds for critical infrastructure projects and Native American language preservation.
The U.S. House approved the American Rescue Plan Act last week and the Senate approved an amended version over the weekend. Teehee said it now moves back to the U.S. House for consideration this week before potentially heading to the president's desk for his signature.
However, work to support Native American communities does not stop at that package.
Moving forward, Teehee said tribal government priorities need to be incorporated in the regular federal government budget process. She said about 95% of federal funding deployed to tribes is considered discretionary money. She added this means when Congress fails to pass regular appropriation measures and government shutdowns loom it can be very disruptive to tribal government budgets and creates too much uncertainty. Teehee said at the very least there needs to be an effort to create mandatory funding streams for public health and safety. For example, the tribal nations plan supports mandatory funding for the Indian Health Service.
Teehee also highlighted the Biden-Harris Plan for Tribal Nations, a comprehensive roadmap detailing the policy direction the president wishes to implement, as an opportunity to bring about federal reform that aligns with tribal nations' priorities.
She said tribal consultations are a key piece of that plan. She added without input from Native Americans it would be hard for any administration to engage in the meaningful reforms and refinements necessary to better serve tribal communities.
She encouraged the public to participate in tribal consultation sessions, reach out to legislators, and participate in public forums organized by various organizations.
Teehee said some of the legislative priorities being discussed presently include: the honoring of treaty rights by the United States government; addressing infrastructure needs such as road construction, transit, broadband, sanitation and water in Indian country; introducing legislation to authorize the Bureau of Indian Education to create a joint venture program to address a backlog of school construction projects; the reauthorization of the Violence Against Women Act; and reintroducing the Durbin Feeling Native American Language Act to target federal resources to save and preserve Native American languages.
Monitoring ongoing litigation is also important going forward. Teehee said depending on different court findings on particular matters there may be a need for Native American advocates to reach out to Congress to advance a legislative response.
For example, she said they are monitoring litigation regarding the constitutionality of the Affordable Care Act. Teehee said currently it is the foundational law that authorizes tribal health care delivery systems and should it be declared unconstitutional Native American advocates would need to quickly pivot to Congress for action to preserve those systems.
Other litigation on her radar deals with the constitutionality of the Indian Child Welfare Act. She added depending on the court's decisions Congress may need to be lobbied to ensure Native American children are protected.
Teehee said while she is hopeful about the potential federal reforms and actions that can be taken going forward to benefit Indian Country, it does not mean advocacy work is done. She said things can only improve with continued engagement and advocacy.
"We cannot rest on our laurels," Teehee said.
For a video of Teehee's lecture visit Northeastern State University's Center for Women's Studies Facebook page at https://www.facebook.com/nsuokcws/.