Down Syndrome Association
NSU student receives scholarship from Down Syndrome Association of Tulsa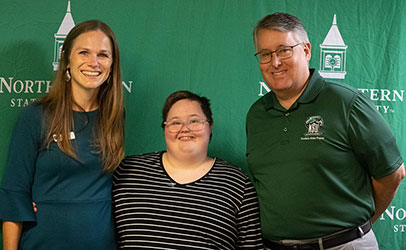 Left to right: Katy Hough, Executive Director of the Down Syndrome Association of Tulsa, Alaine Lambert and Justin Chase, Director of the RiverHawks Scholar Program at NSU
TAHLEQUAH — The Down Syndrome Association of Tulsa has awarded Northeastern State University student Alaine Lambert a $12,000 scholarship for the 2021-2022 school year.
Lambert is a senior from Muskogee and a member of the RiverHawks Scholar program at NSU.
She was excited when she learned she will receive the scholarship and looks forward to finishing up her final year at NSU studying education. She currently has an internship assisting elementary school students who also have special needs.
She enjoys spending much of her time on campus and taking part in the various activities happening around NSU at any given time.
"I like hanging out with my friends, singing, dancing— anything on campus." Lambert said.
One piece of advice Lambert would give to incoming or prospective RiverHawks Scholars is to take the time to invest in other students, much like she has done during her time at NSU.
"I would tell them good luck and to be helpful to the other students, '' Lambert said.
About the RiverHawks Scholar Program
The first program of its kind in Oklahoma, the RiverHawks Scholar Program provides a college-style living and learning environment for individuals that have mild/moderate intellectual and/or developmental disabilities. Students enroll in a four-year certificate program with the goal of learning how to live independently and achieve gainful employment in the career of their choice.
Through a partnership with the Oklahoma nonprofit LeadLearnLive, NSU established the RiverHawks Scholar Program and accepted its first cohort of students in the 2018-19 academic year.
"What I learned early on in 2018 is it's an extension of our academic enterprise," NSU President Steve Turner said at the fall 2021 RiverHawks Scholar Program open house. "But what's really been beautiful to watch is the interaction and support of our students and employees."
In January, the U.S. Department of Education approved the NSU program to receive a Comprehensive Transition Program designation. This allows current and future students to be eligible to complete the FAFSA Free Application for Federal Student Aid for funding to help cover college expenses and have access to other financial aid options such as a Pell Grant or Federal SEOG (Supplemental Educational Opportunity grants) as well as federal work study.
To learn more about the RiverHawks Scholar Program, visit www.nsuok.edu/RHScholar.