Computer Science Program Recognized
NSU computer science program recognized for its quality and affordability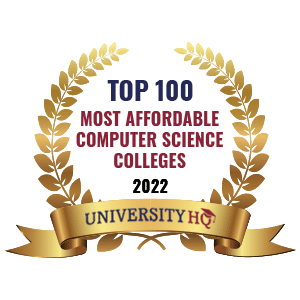 TAHLEQUAH, Okla. — Northeastern State University's computer science program was recently recognized as one of the most affordable in the nation.

University HQ ranked NSU at No. 36 on its list of the "Top 100 Best Affordable Computer Science Colleges" for 2022.

"We are so pleased that our program is not only recognized as a program of quality but also of affordability," NSU Department Chair of Mathematics and Computer Science Dr. Martha Parrott said. "With exceptional faculty in the program who stay abreast of current trends, issues and practical applications in computer science, NSU prepares our students to apply their knowledge and skills in computer science positions immediately upon graduation. Our faculty value personal connections with students and strive to make learning relevant to the future work of their students as computer scientists."

Parrott said the degree is designed according to guidelines set by the Association for Computing Machinery (ACM) and the Institute of Electrical and Electronic Engineers (IEEE), the two leading professional organizations for the computer science discipline.

Dr. Rad Alrifai, NSU professor of computer science, said NSU offers a contemporary curriculum and variety of courses needed to prepare students for their professional career or graduate schools. The computer science program at NSU focuses on software development including programing in contemporary computer languages and software engineering, as well as computer science project development.

NSU's computer science program is also student-focused and offers several immersive-learning opportunities to those enrolled. According to Alrifai, one of those opportunities is a capstone project where students develop complete software solutions resembling those used in real life business applications. Internships are also available to students interested in acquiring job-related skills before graduation.

The U.S. Department of Labor Statistics continues to project employment of computer science majors being in higher demand than average careers. Alrifai said students can feel assured that at NSU there is a community of students, staff and faculty who are all very interested in their success.

"Having an independent and unsolicited party presenting their evaluation that the CS program at NSU is one of the most affordable programs in the county can serve as a crucial statement in supporting the credibility and integrity of our message about the affordability of our program," Alrifai said.

To learn more about NSU's computer science program visit the program website or contact the department at 918-444-3842.