Bass Tournament 2022
Friendly bass tournament brings NSU students, local veterans together

Thirteen veterans from multiple states came to fish with members of the NSU Fishing Team at Lake Tenkiller. Pictured above are the veterans, members of the NSU fishing team and representatives from Operation Freedom Outdoors, Rods 4 Warriors, American Legion Post #20 and Native Waters Adventure Co.
TAHLEQUAH — Members of the Northeastern State University Fishing Team were super excited for a chance to go fishing with local veterans, says team president Grayson Hudson.
On April 3, members of the NSU Fishing Team were paired up with 13 local veterans as part of a friendly bass fishing tournament at Lake Tenkiller. Northeastern State University partnered with Operation Freedom Outdoors, American Legion Post 20 of Fort Gibson, Rods 4 Warriors and Native Waters Adventure Co. to offer the tournament where teams spent a day on the water fishing and fellowshipping together.
Grayson said many of the fishing team members viewed it as an opportunity to give something back to veterans who have given so much for them already. He said the students learned a lot of life lessons while fishing with the veterans.
"'I'm not one to say much but this was awesome," U.S. Marine veteran Pun Nie of Claremore said. "All the events are awesome and it means a lot to me to get to participate. I'm so thankful for everyone who is involved."
Nie and NSU student and fishing team member Chance Ryals took first place in the tournament with 12.43 pounds. The team also landed the biggest bass of the event weighing in at 3.61 pounds. The team of NSU fishing team member Donald Hart and Army veteran Vincent Moreno of Wichita Falls, Texas finished second with 11.85 pounds. In third was the team of Jeremy Tolle and Army veteran Zack Vickers of Vian with 11.56 pounds.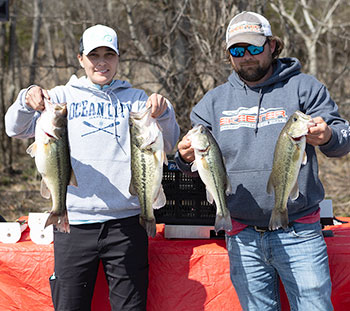 U.S. Marine veteran Pun Nie (left) and NSU student and fishing team member Chance Ryals (right) took first place in the tournament with 12.43 pounds.
Winners and participants received prizes for taking part in the tournament, including but not limited to, new rods and reels, hats and more.
Vice President of Operation Freedom Outdoors Cody Smith said the NSU Fishing Team approached Operation Freedom Outdoors about doing a fishing tournament after officials saw them put on a similar friendly tournament for crappie at Eufaula Lake.
"It made my heart happy to see the collegiate bass team members and veterans just having a great time, chit-chatting," Smith said. "I am sure that both parties learned a lot today."
OFO President Matt Alexander said the nonprofit's mission is to recreate the camaraderie lost when veterans leave active service through outdoor therapeutic activities such as fishing and hunting. He added it also provides veterans a chance to form lifetime bonds with other service members and supporters.
Alexander said Operation Freedom Outdoors evolved out of a Facebook group of veterans helping a member get into hunting. Since then, it grew into a nonprofit agency serving several veterans.
As part of its mission to serve veterans, Operation Freedom Outdoors partners with other veteran service organizations like Rods 4 Warriors and American Legion Post 20 in Fort Gibson as well as community partners like NSU.
American Legion Post 20 Vice Commander Danny Gross said the tournament was an awesome opportunity to bring together individuals. He said as part of their various services the legion encourages getting veterans out of the house and interacting with others in outdoor activities.
He added they also see it as a way to stopping the 22, referring to a movement aimed to preventing suicide among veterans and providing a lifeline to those who served that may me dealing with mental health issues.
Smith said he foresees this turning into an annual event as both veterans and students alike seem to have an awesome time fellowshipping together.
"I had a blast," said Vince Eastwood of Arkansas "NSU and OFO out done themselves this time. Thank you to everyone who had a part in this."