New Veterans Monument and Plaza
NSU to dedicate new Veterans Monument and Plaza on Nov. 11, 2021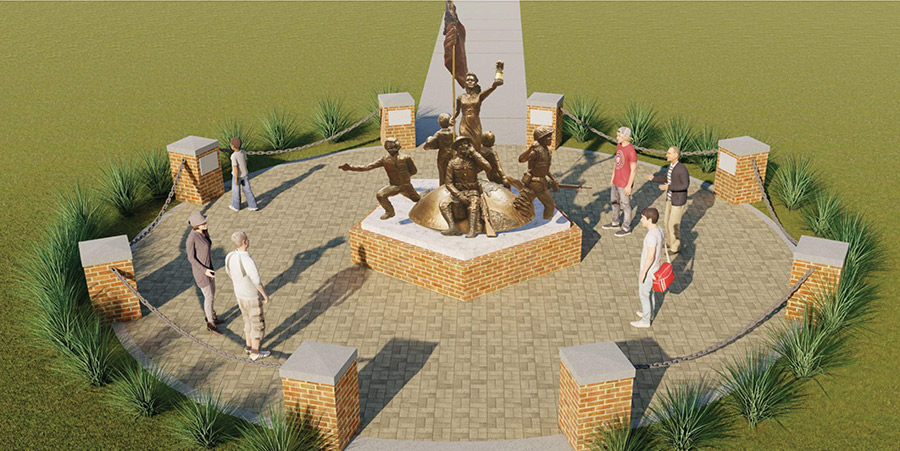 Northeastern State University officials will unveil a new, larger-than-life veterans monument and plaza on the Tahlequah campus on Veterans Day. Created by Oklahoma sculptor Joel Randell, the monument will be comprised of six bronze figures arranged on a representation of the world. Pictured is a model of the larger-than-life bronze veterans monument to be unveiled at NSU's Tahlequah campus on Veterans Day.
AHLEQUAH, Okla. — Northeastern State University will dedicate its newest monument in honor of the men and women who served this country on Veterans Day.
NSU invites the community to attend its Veterans Day program on Nov. 11 at 11:30 a.m. for the unveiling and dedication of a new, larger-than-life veterans monument and plaza titled "NSU Veterans: Serving and Communicating through the Decades."
The monument will be located east of Seminary Hall, near the roundabout in front of the Center for the Performing Arts. In the case of inclement weather, the ceremony will be moved to a backup location.
"This monument was built to honor and memorialize all veterans, no matter when or where they served, who made sacrifices for our nation," NSU President Steve Turner said. "It is our hope that our students and the wider community can use this space to pay tribute to our veterans – past, present and future."
In addition to the unveiling of the new monument, NSU officials will also mark Veterans Day with a small ceremony. Oklahoma National Guard Director of Joint Staff and NSU alumnus Brig. Gen. Jon Harrison will be the featured speaker.
Prior to commissioning, he served four years as an enlisted member of the Oklahoma National Guard. Harrison has been deployed twice in support of Multi-National Force-Iraq and Operation Provide Comfort in Iraq. Harrison has received many awards including the Legion of Merit, Bronze Star Medal, Meritorious Service Medal, Army Commendation Medal, Southwest Asia Service Medal, Iraq Campaign Medal, Global War of Terrorism Service Medal and the Humanitarian Service Medal. He graduated from NSU in 1988 with a degree in accounting.
In addition to Harrison, also slated to participate in the veterans ceremony are Turner, Provost and Vice President for Academic Affairs Dr. Debbie Landry, Oklahoma State Regents for Higher Education Chancellor Dr. Allison Garrett, Cherokee Nation Principal Chief Chuck Hoskin Jr., Chair of the Regional University System of Oklahoma Board of Regents Connie Reilly, sculptor Joel Randell and NSU Student Government Association President Brooklyn Neff.
The monument will be unveiled at the conclusion of the ceremony.
For two years, a president-appointed committee, mostly comprised of veterans, worked to make this project a reality. Randell was selected to design the monument, which is comprised of six bronze figures arranged on a representation of the world to signify the United States' widespread role and history over the years.
Randell said that the design arose from years of extensive study of military history and efforts to appropriately recognize veterans' service. Each branch of the U.S. Armed Forces is represented as part of the monument as well as different time periods throughout the nation's history.
"NSU has a rich history of students, faculty, staff and alumni serving and who have served," Turner said. "We are eternally grateful for their service."