Medal of Honor recipient Dwight Birdwell
NSU alumnus, Medal of Honor recipient Dwight Birdwell to receive Presidents' Award for Community Service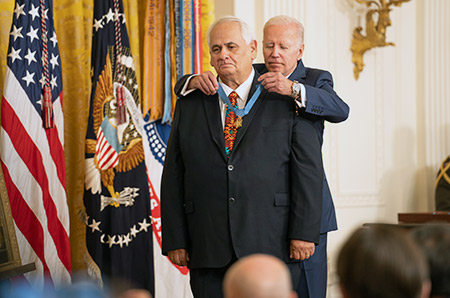 Dwight Birdwell Medal of Honor Award - President Joe Biden presents Army Spc. Five Dwight Birdwell with the Medal of Honor during a ceremony at the White House in July. (Photo courtesy of the Cherokee Nation)
TAHLEQUAH, Okla. — Medal of Honor recipient and former Cherokee Nation Supreme Court Justice Dwight Birdwell was named the next recipient of the Northeastern State University Presidents' Award for Community Service.
"From his heroic deeds during the Vietnam War to his continued service to our community and the Cherokee Nation in the years after, Mr. Birdwell embodies the type of individual this award recognizes," NSU President Steve Turner said. "His selfless actions have transformed many lives and we are proud to honor this American hero and servant leader."
Army Specialist Five Birdwell joined the U.S. Army in 1966 and served during the Vietnam War. He was assigned to Troop C, 3rd Squadron, 4th Cavalry, 25th Infantry Division.
As a soldier, he went above and beyond the call of duty to defend the Tan Son Nhut Air Base from enemy attack during the Tet Offensive in late January 1968. He also again risked his life on July 4, 1968 to rescue Americans stranded in a battle zone in an enemy-occupied village. For his acts of heroism and leadership during the Vietnam War, Birdwell received several accolades including a Bronze Star, two Silver Stars and two Purple Hearts. Most recently, President Joe Biden awarded Birdwell, a Cherokee Nation citizen, the Medal of Honor on July 5, making him the first NSU alumnus and 33rd Native American to receive the military's highest honor. He was also inducted into the Oklahoma Military Hall of Fame in 2017 for his service.
After being honorably discharged from the Army in December 1968, Birdwell continued to serve his community. He graduated from Northeastern State University with a bachelor's degree in history in 1972 and would later get his law degree from the University of Oklahoma College of Law in 1976.
Upon graduation from law school, he started his own law practice in Oklahoma City focusing on energy, natural resources and Indian law. Bidwell has practiced law in the Oklahoma City area for more than 40 years. He would also serve for 12 years on the Cherokee Nation Supreme Court from 1987 to 1999. During that time, he served as the chief justice from 1995-1996 and 1998-1999.
Started in 2003, the Presidents' Award for Community Service recognizes an alumnus or friend of the university who has rendered outstanding service, support or courtesy to the community. Honorees are selected by the president of the NSU Alumni Association in conjunction with the president of the university. Past recipients include Drs. Tim & Isabel Baker, Dr. Jack Dobbins and Wilma Mankiller.
Birdwell will be honored during this year's homecoming celebrations. He will be recognized on Sept. 23 during the NSU Alumni Association Honors Reception.