NSU to feature Jon Hamar in 54th Annual Green Country Jazz Festival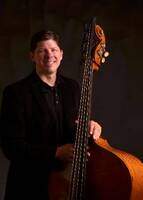 (Tahlequah, Oklahoma) - The 54th Annual Green Country Jazz Festival is set to return on March 3 and March 7.
These events will be hosted virtually through the NSU Music Department YouTube page. The festival will open on March 3 with the annual Judges Jam at 8 p.m. The festival continues with the Green Country Concert on March 7 at 3 p.m. which will also be featured on the YouTube page.
This year's festival will feature Jon Hamar and the NSU Jazz Ensemble.
Hamar is a versatile artist whose ability to find a tasteful, unique voice in any musical situation has made him a staple in the music scene. Hamar's work ethic and discipline have kept him busy over his career that spans more than 20 years.
Hamar has performed with Ernestine Anderson, Benny Golson, Terell Stafford, Pete Christlieb, the Jeff Hamilton Trio and the Clayton-Hamilton Jazz Orchestra.
He earned a Bachelor of Music degree in Classical Double Bass Performance from Eastern Washington University under the tutelage of Russian bassist Roma Vayspapir. While in Spokane, Washington Hamar performed with the Spokane Symphony and the Bob Curnow Big Band. He continued on to the Eastman School of Music in Rochester, New York where he graduated with a master's degree in Jazz and Contemporary Media in 2001. While at Eastman he studied the bass with Jeff Campbell and James VanDemark and worked closely with Harold Danko, Fred Sturm and Clay Jenkins.
In 2012 Hamar joined the faculty at the Centrum Jazz Workshop under Artistic Director John Clayton and in 2015 joined the faculty at the University of Tennessee. Hamar is currently Assistant Professor of Bass at the Nathalie L. Haslam School of Music in Knoxville, Tennessee.
Hamar began performing with the Jeff Hamilton Trio in July of 2018 and in the same year toured Europe with the Clayton Hamilton Jazz Orchestra under the direction of Jeff Hamilton and John Clayton, featuring renowned vocalist Cecil McLaren Salvant.
Hamar can be heard with the Jeff Hamilton Trio on the 2020 release "Catch Me if you Can." This album was rated No. 25 in the top 100 albums of 2020 by JazzWeek and listed as one of the top albums of 2020 by DownBeat magazine.
The Green Country Jazz Festival began back in 1967 and since then never failed to provide such prolific music to the community of Tahlequah. The festival continues to bring in world renowned jazz artists to the area and is one of the country's longest running jazz festivals. NSU's Department of Music continues to strive for the highest, not only for students and performers, but for the community as well. For more information, call 918-444-4602.