2022 President's Leadership Class Graduates
NSU celebrates 2022 President's Leadership Class graduates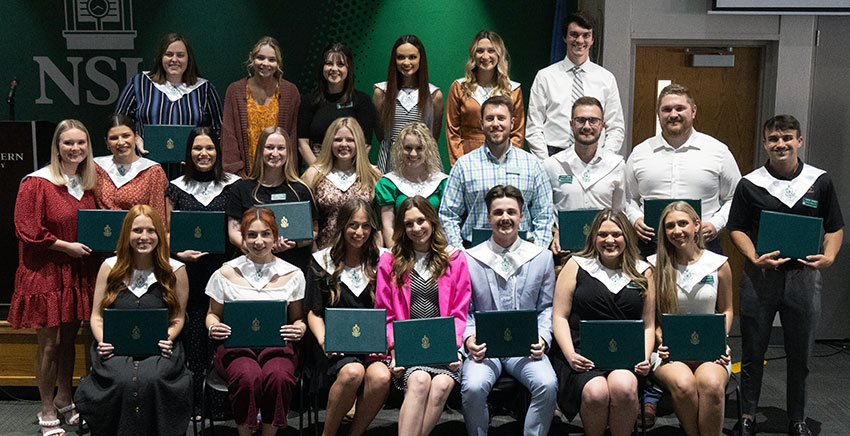 Pictured are the 2022 President's Leadership Class graduates. First row from left to right: Megan Warren, Aspen Ford, Kelby Wilson, Lauren Frost, Matthew "Turner" Howk, Hannah Reynolds and Meagan Wilcox. Second row from left to right: Timber Hardbarger, Kyleigh Harrell, Jackie Barrett, Heidi Avery, Abigail Pack, Emily Carver, Mason Pack, Caleb Swank, Kenneth "Chase" Vance and Austin Condict. Third row from left to right: Audra Cunningham, Caitlin Urie, Allyson Neep, Brennan Barrick, Brooke Hatchette and Jeffrey "Blake" Faulkner. Not pictured is Bailey Edmonds.
TAHLEQUAH — Twenty-four Oklahoma students were honored as President's Leadership Class members as they recently graduated or will graduate in December 2022 from Northeastern State University.
The students were chosen as high school seniors after a rigorous review of their leadership and service activities, awards, academic transcript and college entrance exam scores, letters of recommendation and an in-person interview by PLC alumni and staff.
NSU President Steve Turner and wife Penny celebrated the President's Leadership Class graduates at a dinner in April.
Each PLC recipient received a four-year scholarship valued at over $10,000 per year, which included a tuition waiver for up to 18 undergraduate hours, $1,200 towards an on-campus housing option and a $750 stipend from the NSU Foundation each semester. If they graduated early, these benefits could be applied toward a graduate degree at NSU for the remainder of those four years.
PLC graduating seniors also receive an all-expense-paid trip led by Turner that focuses on our nation's leadership and history. Destinations have included Washington, D.C., Philadelphia and Boston.
PLC members must participate and become leaders in campus organizations and/or extracurricular activities, as well as maintain a 3.25 grade point average while at NSU.
Prior PLC alumni have become leaders in state government, optometry and other healthcare fields, education and business administration, as well as local and community decision makers.
Graduating NSU PLC members include:
Bokoshe
Emily Carver

Broken Bow
Brennan Barrick

Fort Gibson
Jeffrey "Blake" Faulkner
Brooke Hatchette
Meagan Wilcox

Glenpool
Caitlin Urie

Inola
Jackie Barrett
Bailey Edmonds

Midwest City
Hannah Reynolds

Okmulgee
Matthew "Turner" Howk

Oologah
Kenneth "Chase" Vance

Owasso
Heidi Avery

Roland
Kyleigh Harrell

Rose
Audra Cunningham

Sayre
Kelby Wilson

Skiatook
Megan Warren

Stilwell
Timber Hardbarger

Tahlequah
Aspen Ford
Abigail Pack
Mason Pack

Wagoner
Austin Condict
Lauren Frost

Westville
Caleb Swank

Wilson
Allyson Neep
Online applications for the NSU PLC Scholarship open in September and close on Feb. 1. For more information, visit scholarships.nsuok.edu/Freshmen/