2021 NSU Summer Bridge Program will be both in person and virtual
2021 NSU Summer Bridge Program will be both in person and virtual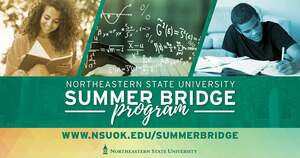 (Tahlequah, Oklahoma) – Northeastern State University gives incoming students the option to attend the 2021 Summer Bridge Program either in person or virtually.
The Summer Bridge Program is a four-week, immersive program for incoming students who need to take a zero level or non-credit bearing course, with the opportunity to retest/place out upon completion.
Dr. Kendra Haggard, associate director for student transitions, said it is a great way to hone skills in reading, writing and math.
"It's also a great way to learn about the campus and develop soft skills," Haggard said. "Attendees will get to meet other students and be ready for the semester to begin in August."
Students opting to attend the summer bridge program virtually will do so via Zoom and Blackboard. The deadline to apply is May 28 and the virtual Summer Bridge Program is scheduled for June 7 to July 1.
For those students opting to participate in this year's Summer Bridge Program in person, housing is available and the deadline to apply is June 25. The in-person Summer Bridge Program will take place from July 6 to 29.
For more information, or to apply, visit www.nsuok.edu/SummerBridge or email Haggard at haggardk@nsuok.edu.