Musical Show "Ain't I a Woman!" Virtually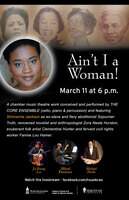 (Tahlequah, Oklahoma) – Northeastern State University's College of Liberal Arts, the Center for Women's Studies and the Sequoyah Institute have partnered to bring the musical show, "Ain't I a Woman!" to audiences virtually.
The event is free and open to the public.
Dr. Suzanne Farmer, director of the Center for Women's Studies, has been an advocate for bringing diverse female voices to campus and the region. Leaders for the center and the Sequoyah Institute have discussed a potential partnership in the past.
"When the 'Ain't I a Woman!' production company contacted the center about hosting a show on campus highlighting four Black women and their historic influence, it seemed to be a natural fit for partnership," Farmer said.
Actress, Shinnerrie Jackson, portrays various notable women of color including Sojourner Truth, an ex-slave and abolitionist; Zora Neale Hurtson, renowned novelist and anthropologist; Clementine Hunter, folk artist; and Fannie Lou Hamer, civil rights worker.
"Ms. Jackson will bring these notable women to life on stage and, I think, make their stories heard to many for the first time," College of Liberal Arts Assistant Dean Robyn Pursley said.
The production is accompanied by The Core Ensemble, a trio consisting of Ju-Young Lee, cello, Mikael Darmanie, piano, and Michael Parola, percussion.
The event can be viewed on March 11 at 6 p.m. via facebook.com/nsuokcws.