2021 Greener Days Ahead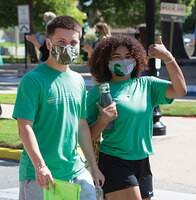 (Tahlequah, Oklahoma) — Northeastern State University will return to a pre-pandemic schedule this fall using best in-person delivery practices honed over the last year.
"We are committed to providing more in-person classes for fall 2021, utilizing the same protocols that are working well for us now—wearing masks, watching distance between each other and washing hands frequently," Dr. Deborah Landry, provost and vice president of academic affairs, said. "We will continue to monitor and adjust our processes as we have since March 2020."
Landry said the plan is to return to the more traditional 60% in person, 40% online delivery of classes that existed prior to the COVID-19 pandemic in the fall. In response to the pandemic, university officials adjusted the course delivery format the last two semesters in favor of more online-only or hybrid options.
Even with these adjustments, NSU officials still maintained in-person classes as an option for its students last fall and the current spring semester following the U.S. Centers for Disease Control and Prevention recommendations for higher education institutions. This includes requiring face coverings, creating additional space between students, installing sneeze guards and other protective barriers in classrooms and frequently sanitizing surfaces.
"We wanted to provide the best, yet safe as possible, learning environment that best suited our students and their learning styles," Landry said. "Many of our students do not have adequate internet at home, and they needed to be able to attend an in-person class if at all possible."
She added the university also serves a large population of first-generation students that need access to the supportive services such as tutoring and computer labs in order to be successful.
NSU also instituted other COVID-19 protocols meant to balance safety and the university's commitment to provide a quality education to its students. This includes creating an online COVID-19 dashboard; developing COVID-19 safety guidelines for students, faculty and staff; and upgrading the technology in use at the different campuses to better meet NSU family needs.
Landry said technology upgrades were in the university's short-term plans but the pandemic accelerated its completion. The university added several new Zoom rooms, upgraded microphones and cameras, and purchased PPE for our faculty and staff.
"Our faculty, staff and students have implemented these processes with great success, which enable our ability to increase our face-to-face offerings this fall," Landry said.
She added the pandemic highlighted one of the strongest aspects of education—the commitment of faculty and staff. She said everyone at NSU has been fully committed to accommodate students and help them succeed despite the challenges the pandemic presented.
While encouraged with the success of the protocols implemented, as evidenced by continuingly low positivity rates, NSU officials remain vigilant and continue to monitor COVID-19 pandemic, which has been known to change rapidly, in partnership with health experts.
"We have become prepared to pivot quickly to alternative delivery forms for more than just a response to the pandemic," Landry said. "We are better prepared for instances where the weather impacts conditions, or other emergencies that prevent an in-person class. Our exceptional faculty have demonstrated creative and innovative ways to teach and engage students virtually, and these practices can help shape future responses."
To keep up-to-date regarding NSU's efforts and responses to the COVID-19 pandemic visit https://offices.nsuok.edu/studentaffairs/Coronavirus/default.aspx.
Photo caption: NSU students safely returned to campus for in-person classes for the 2020 fall semester. Pictured above, students participate in the 2020 Freshman Coin Walk, an NSU tradition that welcomes incoming freshmen classes to campus.